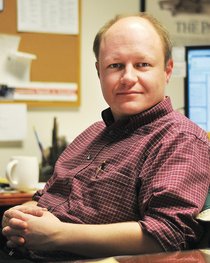 Recent Stories

Snow in mountain passes could hamper travel; frigid temperatures by Tuesday
North Central Idaho could begin seeing the impacts of a big winter storm as early as Saturday night, Dec. 8, according to the National Weather Service office in Missoula, with significant snow amounts and frigid temperatures causing problems for travel.
Idaho State Police is continuing its investigation into a two-vehicle collision last Friday, Nov. 25, five miles north of Ferdinand.
Editorial
Proactive forward-thinking plans by Idaho Democrats in the wake of the 2016 General Election are an inspiration for a change in state party politics overall.

Event now nine years running; volunteers do the job, 'because we love it'
"The generosity of our community," said Terra Hill, has provided for Pioneer Park Christmas lighting, allowing the public to "enjoy it in winter as well as summer."
Unemployment for Idaho County is above the average for the state, in preliminary figures reported this month by the Idaho Department of Labor; however, it has dropped by half a percentage point from a year ago.

Christmas gets a little closer when the Main Street garlands go up. Members of the Grangeville Merchants and an Avista lineman crew with bucket truck were out Tuesday morning, Nov. 22, wrapping the 53 Main Street lampposts with LED-strung garlands. Pictured here, Melinda Hall was all smiles on the project, which she conducted with Nancy Asker and Jody Hoogland.
Editorial
What does last week's Idaho County Sheriff's election have to say? Here are some thoughts:
Republicans also won more votes in opponents home counties to take District 7 seats.
For the District 7 legislative races, unofficial results are Carl Crabtree (R) of Grangeville won the senate over Ken Meyers (D) of Sagle, 14,318 to 5,071; and Priscilla Giddings (R) of White Bird overcame Jessica Chilcott (D) of Sandpoint, 13,647 to 5,633, for Dist. 7A Representative.

2016 Election: final results
2016 was a record turnout within the last three presidential elections for Idaho County voters at 83.10 percent, up more than 4 percent from the last highest year, 2008, when Barack Obama first took office. Results were canvassed Monday, Nov. 14, by the Idaho County Commission, confirming 8,517 ballots were cast Nov. 8 out of a total 10,249 registered voters. 2016 also saw the highest number of election day registrants – 783 – within the past three presidential elections.
2016 Election: final results
With Idaho County showing a presidential election record turnout of 83.1 percent, how did individual precincts fare, percentage-wise?