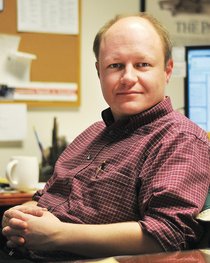 Recent Stories

Residents in the Grangeville chip sealing project area may hear industrial traffic starting Sunday night, as the city sweeps up excess rock from the week-long project.
An Oregon motorcyclist was injured in a Monday collision with a vehicle south of Lucile on U.S. Highway 95.
A Colorado motorcyclist was injured last week in a crash along U.S. Highway 12 seven miles west of Syringa.
A curious raccoon survived to tell a shocking tale … at the expense of more than 1,000 Avista customers left without power for nearly nine hours last week.

Recreationists were enjoying a rafting trip north of Riggins near Chair Creek on the Salmon River last Wednesday, July 22.
Work may be delayed a year on the $8 million Idaho County Airport runway reconstruction project, but the engineering preparation work continues.
Last Thursday's storm that pounded the region with rain and lightning likely contributed to igniting a structure fire that destroyed a Battle Ridge Road home, garage and adjacent outbuilding.
Approximately a quarter-section of Grangeville will undergo a chip seal project starting Monday, July 27.

Celebration marks historic era for mining boom
Overlooking July's golden hills in the Clearwater Valley, a community festival drew residents, participants and history enthusiasts for an annual commemoration now two decades old.
Rural communities are needy: needing jobs, needing access to services (social, health), needing a healthy retail district, needing a crime-free environment.