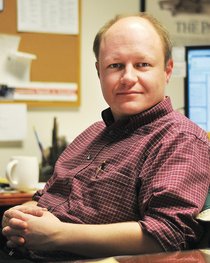 Recent Stories
Editorial
We must disagree, in part, with our county Republican friends in their disassociation last week with Senator Crapo for his decision to rescind his endorsement of GOP Presidential candidate Donald Trump.
Senator Mike Crapo crossed a line in the sand for Idaho County Republicans who last week pulled their support for the three-term incumbent just days following his decision to pull his endorsement for GOP Presidential candidate Donald Trump. As a result, the Idaho County Republican Central Committee (ICRCC) stated, in an Oct. 11 letter to the senator, its members would not be providing physical nor financial support toward his re-election campaign, which would include sign and literature distribution, as well as removal of signs currently placed.

Election 2016: Dist. 7 Senate - Crabtree, Meyers race for state seat
From education to economics, District 7 is faced with a complex set of issues, according to Ken Meyers. "There are a lot of things we need to be focused on," he said, "and we have a platform here to focus on them," within the Idaho Legislature.

A place to meet
One person stood clear of the scissors at Saturday's dedication ceremony for the new veterans' center in Grangeville. "I'm commissioned now and they won't let me touch anything sharp!" joked Robert Skinner, commander for the State of Idaho American Legion. Around 160 people attended the Oct. 15 event, celebrating the grand opening of the Veterans Outreach and Community Center at 318 East Main Street.

New public defender sought
Grangeville attorney Victoria Olds will serve as magistrate judge for Lewis County. Olds was selected by the Second District Magistrate Commission last Thursday, Oct. 6, to replace retiring Magistrate Judge Stephen Calhoun. It is expected she will be sworn in January 2017.

Election 2016: Dist. 7A (Chilcott)
'Important to do a good job for everyone in the district' — Chilcott
Editorial
Oktoberfest: Did you have a good time? Great. Now let's keep that ball rolling.

Cause is undetermined for last week's fire that destroyed a Stites double-wide mobile home. The rental residence at 420 Old School Avenue was determined a total loss, according to Fire Chief Mark Anderson, Kooskia Volunteer Fire Department.

District 3 High School Rodeo held its last event for the fall season on Saturday and Sunday, Oct. 8-9, at the Riggins Rodeo grounds. The season starts up again with events beginning late-April 2017. Pictured here on Sunday was Luke Olsen of Kooskia in the junior high breakaway event.
Alcohol is a suspected factor in last week's three-vehicle fatality accident at Kamiah. Rex D. Pevehouse, 83, of Orofino, was ejected from the vehicle and died at the scene.