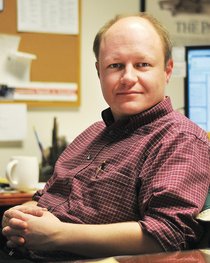 Recent Stories

Sun worshipers may be enjoying unseasonably warm temperatures, but the rising mercury hasn't been good for both snow levels and attendance numbers at Snowhaven Ski and Tubing Hill.
The topic of education funding in Idaho gets folks from zero to 100 mph in a hurry. When Governor Butch Otter hosted the Capital for a Day event in Kamiah Jan. 16, he and state officials got the brunt of local frustration with both barrels. Here are two quotes drawn from the Lewiston Tribune of that day's questioning:

Constituent questions varied from education to drugs, public lands and Internet taxation at last Friday's Idaho-Lewis County Capital for a Day event.
For Cottonwood Police Chief Terry Cochran, the big standout for the year, which will carry into 2015 and hopefully beyond, is the partnerships and coordination with other entities to improve public safety.
Public turnout at last Friday's Idaho-Lewis Capital for a Day event showed lots of folks had questions for their governor and public officials.
On July 1, Oregon's legalized marijuana goes into effect, putting Idaho in the center of a shrinking circle of Western states – including Utah and Wyoming – where the use, possession, sale, cultivation and transportation of cannabis is illegal.

This is a "new chapter" for Cody Funke of Cottonwood, who stepped up as Idaho County Coroner on Monday.
Falling snow is only pretty until the power starts going out. And wet, heavy snow was the cause of multiple outages that recently disrupted regional power service.

A gunshot victim is in intensive care and the alleged shooter is in jail on felony charges related to the Sunday night incident. As of press time Tuesday, Joshua B. Anderberg, 31, of Kamiah, is listed in serious condition at Harborview Medical Center in Seattle, suffering a gunshot wound to the abdomen.

Families enjoyed an evening potluck and interaction on New Year's Eve at the Grangeville Christian Reformed Church on North Junction Street.