Originally published September 22, 2017 at 02:12p.m., updated September 23, 2017 at 08:28p.m.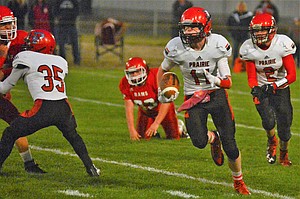 (Check back later for results. To report a score, text 208-507-0675, Facebook us, or e-mail us. Complete score sheets received by 10 p.m. will be written up tonight.)
Football results
Friday, Sept. 22
Grangeville 54, Parma 14
Prairie 64, Clearwater Valley 28
Salmon River 30, Lapwai 16
Football results
Saturday, Sept. 23
Kamiah 40, Wallace 20
Soccer results
Saturday, Sept. 23
Grangeville at Kellogg
Kellogg 6, Grangeville 4 (girls)
Bonners Ferry 7, Grangeville 1 (boys)
Bonners Ferry 5, Grangeville 1 (girls)
Volleyball schedule
Saturday, Sept. 23
St. Maries def. Grangeville 3-0.
This weekend in local sports features a cross-county football game tonight that has big standings implications in the Whitepine League. On Saturday, high school soccer, volleyball and football action continues -- and a few familiar faces will take the field in Grangeville when the Lewis-Clark Loggers college football team kicks off against the Tacoma Central Sound Warhawks at 5 p.m.
WHERE WE'LL BE
KOOSKIA - Tonight's Whitepine League contest features two teams coming off of lopsided wins last week -- and early-season league losses. Having lost to Genesee in Week Two, Prairie is on the road for the second league game of the season, while Clearwater Valley is playing its third WPL game, having beaten Kamiah two weeks ago and having stumbled against Wallace during Week One.
The Rams haven't played the Pirates within 40 points since 2011, when these teams played to a 28-8 final.
Whichever team wins tonight will stay within striking distance of the top of the league standings -- a position which Lapwai and Wallace are certain to hold overnight, which Genesee would join at 2-0 if the Bulldogs beat Troy. (Lapwai is playing non-league Salmon River and Wallace is idle tonight -- more on their games in a moment.)
AROUND THE LEAGUES
Saturday afternoon, 3 p.m. in Kamiah, Wallace is set to visit and the Kubs -- fresh off a bye week -- may have their hands full. Wallace and Kamiah have one opponent in common -- Clearwater Valley. Clearwater Valley beat Kamiah 54-6 in Week Two, Wallace having beaten the Rams 50-22 in Week One. Wallace beat Kamiah 48-6 last fall, and the deeper history between the teams includes a split in a home-and-home in 2012 and 2013.
MORE TO SEE
At Lapwai, Salmon River squares off against one of the WPL's 2016 playoff teams, and the Riggins boys need no reminder that the Wildcats were the only team to beat the Savages last fall. (Lapwai won 52-20 in Riggins.)
At Parma, Grangeville rematches with a team the Bulldogs beat 44-21 last fall. The Panthers haven't won more than three games in a season in recent memory, but they already have victories over Melba and Nampa Christian this fall.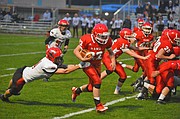 RESULTS
Prairie leapfrogs CV in Whitepine League standings
KOOSKIA - Beneath the surface of a 64-28 Prairie win over the Rams Friday night are signs the quality of football at Clearwater Valley High is on the rise. The Pirates physically overpowered CV, and no individual do so more visibly than Caleb McWilliams, who posted five touchdowns and 101 rushing yards on 12 carries (8.4 yards per play).
"We ran the ball extremely well," PHS head coach Ryan Hasselstrom said. "We tried to do some things passing-wise that really didn't work out -- because CV is good. Defensively, they played really, really well. They're much improved over past years."
McWilliams has played "extremely well" since the Genesee game, Hasselstrom said. "He played really good defensively. Our line did good. Jace Perrin did really good. Our ends blocked well in the run game, and defensively, it's good to have Spencer [Schumacher] back and plugging stuff up. CV has a lot of misdirection and they hit the hole hard and fast and if teams don't prepare for them, they're going to struggle."
Even so, when the Rams broke two big-play touchdowns about 30 seconds apart late in the game, Hasselstrom knew Prairie would be able to protect what was then a three-score lead with about eight minutes remaining.
"They hadn't stopped us running," Hasselstrom said. "We had stopped ourselves a few times with turnovers, but they hadn't stopped us."
The first of those turnovers came on the Pirates first play from scrimmage, when quarterback Damian McWilliams' deep pass attempt was picked off by Carson Morrow. The Rams' first play from scrimmage went 33 yards in the form of a Bubba Summers touchdown run. Leading 8-0, the Rams broke up a fourth-and-4 pass attempt to stifle a seven-play series, but themselves had to punt with a bit less than five minutes left in the first quarter. A 17-yard pass from Damian McWilliams to Nick Mager leveled the score at 8-8, and Prairie took the lead with help from a takeaway. After Derik Shears recovered a fumble deep in Rams territory, Jacob Stubbers ran six yards for a touchdown then added the two-point try for a 16-8 PHS lead.
CV punted on the first play of the second quarter, but leveled the score when a bad snap went high, and through McWilliams' hands, and was booted around before Lane Schilling returned it 60 yards. A pass from Tyce Pfefferkorn to Davis McElroy made it 16-all. Prairie's next series ended with Summers intercepting McWilliams, but PHS regained possession by way of a quick turnover on downs. Shears ran 25 yards for a 22-16 Pirates lead, to which Caleb McWilliams added two short touchdown runs before halftime. Caleb McWilliams found the end zone again during the third quarter, and twice more in the fourth. Owen Anderson scored a late touchdown for Prairie, but not before CV erupted.
Lane Schilling returned a kickoff 75 yards for a touchdown, and Pfefferkorn threw to Summers for a 72-yard catch-and-run, which briefly brought CV within 50-28.
"Our pass defense was really good," CV coach Roger Whalen said. "Our run defense came down to: those [Prairie] kids have been in the weight room and we haven't. They just knocked us off the ball. They blocked down on us, they kicked us, they trapped us and ran over us -- and we couldn't do anything about it. They had a few more kids than us, but you can tell their program is ahead of our program by a long shot."
The win was Prairie's first Whitepine League victory of the season, and the loss was CV's second league loss in three WPL games so far -- so the net effect was to bump the Pirates up into fourth place behind Genesee, Lapwai and Wallace, and to bump the Rams down to fifth.
Grangeville thumps Parma
PARMA - After the hosts leveled the score at 14-all early in the game, Grangeville scored 40 unanswered points and won in a blowout Friday night, Sept. 22. The Bulldogs led 7-0 on a touchdown pass from Tescher Harris to Brandon Stump and 14-7 on a run by Noah Kaschmitter, who converted a fourth-and-inches into a 50-yard dash to the end zone early in the second quarter. Parma struck back after each of those scores, but the Bulldogs tallied three more scores before halftime: a Braison Norman run, a Harris bomb to Chase Adkison and the first of three Harris-to-Booker Bush touchdown strikes. Norman added a 41-yard touchdown run late in the third quarter, and he finished with 158 rushing yards on 18 attempts (8.8 yards per carry). Harris finished nine-for-16 for 146 yards and five touchdowns.
Salmon River defeated Lapwai
LAPWAI - Salmon River posted its fourth win of the season Friday night at Lapwai, winning by a 30-16 final score. See the Wednesday paper for details.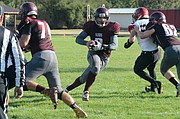 Kubs thump Wallace
KAMIAH - The Kubs took the lead for good during the third quarter and went on to defeat Wallace 40-20, and joined a crush of teams with at least one win in the Whitepine League.
"We played tough," Kamiah head coach Nels Kludt said. "We challenged the kids to play tough after the Kooskia loss and they did exactly what they needed to do. We established an identity running the ball and stopping the run, and that takes toughness. We still have some guys dinged up -- everybody does this time of year -- and I saw guys showing a lot more gusto than we had the last couple of games."
Wallace led 14-12 a couple of passes to Carter Bailey, but the game shifted in the Kubs' favor when Kaleb Oatman barrelled into the end zone, and added the conversion in similar fashion. Wallace leveled it at 20-all with a 49-yard run by Jason Dimitroff with 2:11 left in the third quarter. Then Titus Oatman returned the ensuing kickoff 56 yards, setting up a touchdown run just before the quarter ended. Wallace's next possession ended with a bad snap on a fourth-and-one, and the Kubs lead grew to 32-20 on a pass from Kaleb Oatman to Luke Snyder. Cristian Lopez picked off a deep pass, and Titus Oatman made the final score with a 29-yard run.
"We didn't make much of an adjustment at halftime," Kludt said. "We were doing good things in the first half, running the ball well and defensively, but we didn't always capitalize. We did in the second half -- we had to punt three times in the first half and we didn't have to punt at all in the second half. So we were getting those extra yards."
"Defensively, that's the first game we've tackled well," he added. "Wallace has some weapons -- their quarterback, their receivers, their running back -- and we had to make sure tackles. And we did. That was big."
<< PREVIOUSLY
More like this story

Latest stories
Latest video:
Neighborhood Experts: Idaho County Propane