Wednesday, September 20, 2017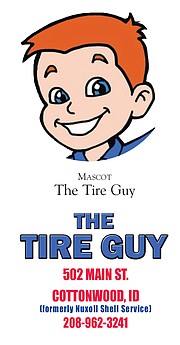 Tires get us to places we have to go, and more importantly, destinations we want to go. And North Central Idaho has lots to go see.
With temperatures remaining warm well into October, a pleasant day trip in neighboring Clearwater County is along the Gold Rush Historic Highway. Its path marks the trail of gold that drove tens of thousands of miners into Idaho, seeking the "pay dirt," following the discovery of gold on Orofino Creek in October 1860.
The 42.5-mile route begins in Greer at the junction of U.S. Highway 12, heading up the Greer Grade that provides a view of the Clearwater Valley. Communities along the way include Weippe and Pierce, ending with Headquarters at the end of the byway.
Highlights on the way include:
•Weippe Prairie at Historical Marker 261 (milepost 17.2) marks where the starving members of the Lewis and Clark Expedition met with the Nez Perce Tribe after crossing the Bitterroot Mountains.
•Weippe Discovery Center in Weippe is an interpretive center that talks about the Lewis and Clark Expedition and its time in Idaho.
http://weippediscoverycenter.com .
•Notable historic marker locations: Canal Gulch (mp 28.6) where gold was first discovered in Idaho and the original location of Orofino; Chinese Hanging Tree (mp 27.5)
Ready to travel? Check out The Tire Guy for your vehicle needs, as well as for roadside tire assistance. We're here to help get you places: 208-816-8040 (ask for Rick) or 208-962-3241 (shop), 502 Main Street in Cottonwood.
More like this story

Latest stories
Latest video:
Neighborhood Experts: Idaho County Propane