Wednesday, September 20, 2017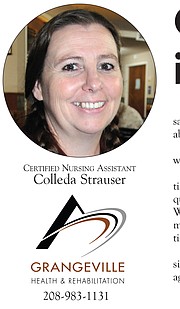 "I am assisting people when they are most vulnerable," said Colleda Strauser of Grangeville. "I want them to be able to feel comfortable with me."
Strauser is in her 10th year at GHR and has been working as a bath and shower aide since 2011.
"These people are like any other people – take the time to get to know them," she implored. "They have quirks and personal opinions, just like you or I do. When I know them and the details of their lives, it's so much easier to work with them. They are worth the time."
Strauser moved from California a decade ago, and her sister, Sharon Owens, a restorative aide at GHR, encouraged her to apply at GHR.
"I had always worked in restaurants and in the fast-food industry, so I felt this would be something different and challenging," she said.
She trained at the facility, becoming a certified nursing assistant (CNA) there and worked the floor until she began as the bathing room aide seven years ago.
"I like the one-on-one personal time with each resident – and they don't like it when I am away and they have a substitute," she laughed. "I have built relationships with them and that's a key to being here and doing this job."
Strauser works full-time in the bathing room but spends one day a week weighing residents and making sure they are getting proper nutrition.
"I want to make sure they are safe, comfortable and well taken care of," she smiled.
Latest stories
Latest video:
Neighborhood Experts: Idaho County Propane