Wednesday, September 20, 2017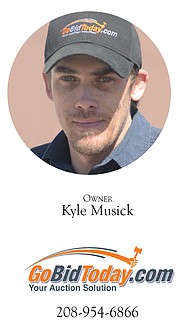 GoBidToday.com is the go-to source for local auction items – whether you're selling or buying.
That's because GoBidToday auctioneer Kyle Musick and his wife, Ashley, combine professional knowledge of how to present an item for auction with the technology required to put his clients' goods in front of Internet buyers. The term for this is Internet marketing, and before you decide to buy or sell any big-ticket items – such as a home or farm equipment or other machinery – it pays to check out what kind of a deal you can get at auction.
Tractors, harrows, cultivators, backhoes, spreaders, seed drills, mowers, trucks, trailers and balers are all the kinds of things being viewed at GoBidToday.com today. The next GoBidToday auction is a live auction at 10 a.m. Saturday, Sept. 30, in White Bird.
Last month, auctions included tools and equipment such as air compressors, snowblowers, sprayers and pickups, as well as furniture items, such as a custom-built china hutch and a bedroom set.
"We value all of our clients and customers," Musick said. "We take the time to catalog and picture each lot, no matter what type of auction we are conducting. This brings value to our buyers and sellers alike because the buyer knows exactly what they are buying, and are more likely to bid higher with that knowledge. We employ proper security methods and carry insurance to protect our auction inventory."
Contact the Musicks through GoBidToday.com, by e-mail to info@gobidtoday.com, by phone at 208-983-7770 or call Kyle Musick at 208-954-6866.
Gobidtoday.com Banner Ridge Ranch Live Auction Event
More like this story

Latest stories
Latest video:
Neighborhood Experts: Idaho County Propane