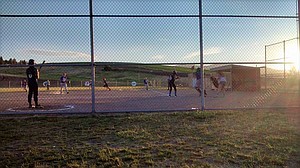 COTTONWOOD — The City of Cottonwood heard about potential upgrades on the softball field at Wimer Field at its Monday, March 13 meeting.
Neil Bruegeman spoke briefly and said a very generous donation has been offered to provide lights and a play structure at the field. Because the project is in the early planning stages, the scope of the project isn't available yet. However, Bruegeman suggested the timeline is still a couple of years out.
"This is bigger than what our budget has, so we know it's going to be a year, two years down the road," he said.
More details will be in our March 22 edition of the Free Press
More like this story

Latest stories
Latest video:
Grangeville defense stops McCall