Wednesday, March 15, 2017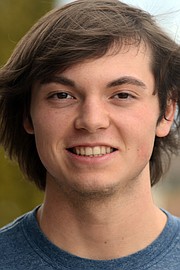 Grangeville's tennis team has seven state qualifiers returning to the re-fenced court this spring — including Bulldogs senior TJ Wiltse, who is determined to compete despite an injury.
Wiltse trained with the cheerleading squad this winter and helped lift Grangeville during an end-of-season competition at Post Falls earlier this month.
"It was fun," Wiltse said of cheerleading this past winter. "I learned a lot and I got a lot stronger from it, too."
Qualifying to compete at the state event March 17-18 is no small task.
"We beat out a couple of other teams, but we had Orofino as our main competition and they beat us by a couple points," Wiltse said. "It was still fun though."
Wiltse got into that because he wasn't taking basketball, but wanted to stay active.
"Trust is a big part of it, and balance, too," he said. "And pure focus, making sure you're not thinking about something else. There's a lot of precision to do that while being safe."
Wiltse said he tore his MCL when he landed awkwardly during a gymnastics practice at Clarkston and is recovering "pretty fast."
"I'm planning to do tennis and I should be back out on the courts in, like, a week," he said. "I'll be able to start running around again soon."
The tennis squad had a good week of practice last week, he said, and it was "great to get outside after a week of running outside and hitting in the gym."
Grangeville was scheduled to play at Orofino on Tuesday, March 14, but that date has been reset for this Thursday, March 16.
This Bulldog of the Week athlete highlight is brought to you by: Grangeville Builders Supply.
More like this story

Latest stories
Latest video:
Grangeville defense stops McCall