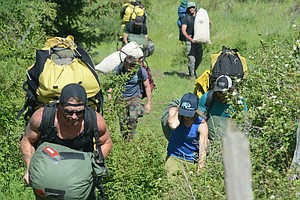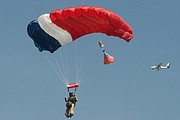 GRANGEVILLE — When fire erupted in so many local forest locales back in 2015, Missoula smokejumper Colby Jackson helped keep one of the many mid-August starts nameless.
The calculation fire managers make as to where and when to send the smokejumpers revolves around what the smokejumpers can do safely and with the strongest chance of success.
Last week, Jackson and others were in Grangeville for training, through which smokejumpers periodically demonstrate just how much they can do, safely.
While it's an opportunity for the individuals involved to hone what they know and maintain professional certification, trainings like the one held in a field on state land south of Grangeville last Wednesday, June 7, can also yield information that is potentially useful for the entire nationwide program.
"When something is learned, it's shared widely, quickly," Jackson said.
Many like him have spent major portions of their lives training to jump out of airplanes like the Twin Otters frequently seen buzzing around over Grangeville this time of year.
While wearing a bit more than 100 pounds of gear, the smokejumpers — there are 30 based in Grangeville this season — take their well-practiced series of steps from the belly of the aircraft out into a 1,500- or 3,000-foot fall, depending on which style parachutes they're wearing.
Of the weight they carry, about 85 pounds are involved with each smokejumper's parachutes (main and reserve) and protective suit. Another 20 pounds includes standard items like radios, hardhats, canteens, fire shelters and rain jackets, and personal items such as a cell phone and a change of socks — or, rarely, a small, carefully packed tent.
Two styles of parachute were on display at the June 7 refresher: a round type designed for a 1,500-foot descent, and a square type designed for higher performance while maneuvering down from twice that height.
Before anyone jumps, the aircraft — whether a Twin Otter or the larger Sherpa (the civilian version of the military C-23 cargo plane) — drops streamers and circles the landing area.
The streamers are nothing but a bit of brightly-colored crepe paper and a weight paired so as to fall at the same speed as round-chute jumpers
The jumpers watch the streamers as they fall, to see what they can discern about the wind at different altitudes. If the streamers fall into a pile, there is little wind at ground-level. When it is windy, the streamers will tend to stretch out as they come to rest.
At the refresher, those with round parachutes went next, and they were airborne for a minute or two before they arrived on earth at perhaps 20 miles an hour. To minimize the impact, they practice what is known as a parachute landing fall: feet first, and rolling on one side or the other as they go down.
The square parachutes have a sewn-in structure on the underside that generates lift when filled with flowing air — useful during various turns at higher heights, but also late in the landing approach, when the jumpers' execute a "flare" technique to slow their speed.
During the June 7 training, the jumps went off without injury, but landing injuries are one of the main risks smokejumpers take on. Another big jump risk is the potential for mid-air collision — and maintaining vertical separation is one of the main ways they reduce that risk.
To the risks involved with jumping, add the risks all wildland firefighters take: exposure to smoke and flames, of course, but also to snags and all kinds of debris that fire may loosen from a burning forest.
Had the smokejumpers jumped into a remote area near a recent fire start rather than onto a flatish patch below the fork where the Service Flats Road joins Old Highway 95, the plane would have flown over the drop zone with additional supplies: food and water for two days, sleeping bags, and firefighting tools.
Once on the ground, their work consists, essentially, of ditch-digging — constructing trench lines to cut off advancing fire from its next fuel.
For that, smokejumpers must meet high standards of physical fitness — perhaps the toughest being the ability to pack out 110 pounds a distance of three miles in 90 minutes or less.
See https://www.fs.fed.us/fire/people/smokejumpers/index.html for more information.
Latest stories
Latest video:
Grangeville defense stops McCall