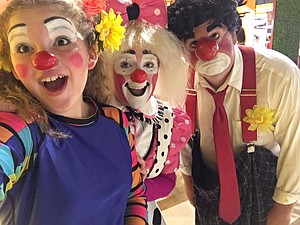 The Culpepper and Merriweather Circus is coming to Kooskia Monday, June 19, and Mike Smith of Lowell plans to spend his Monday clowning around.
"Mike will be performing with some Clown College friends and helping out at the circus," said Lara Smith, who is also a Clown College graduate.
The Smiths coached track at Clearwater Valley High School (CVHS) this past season and Lara said they received some cracks that their track tent looked like a circus tent.
"The funny thing is – that's going to be the clown dressing room on Monday," she laughed.
Two shows will be performed under the Big Top, rain or shine, at CVHS. Show times are 5 and 7:30 p.m. and area residents are also invited to see the Big Top go up between 9:30 and 10 a.m.
Show sponsor is the VEST (Valley Educational Support Team) and tickets can be purchased at a discounted price ($10 for adults and $7 for children and seniors) prior to the circus from Cloninger's Harvest Foods stores and Freedom Northwest.
On circus day, tickets can be purchased at the box office and will be $13 for adults and $8 for children and seniors. The ages for a child's ticket are 2-12 and seniors are 65 and older.
The show will include big cats, unicyclists, dogs, trapeze, horses, high wire, contortion and, of course, clowns.
Circus to be in Grangeville June 17
GRANGEVILLE – The Culpepper and Merriweather Circus will hold two performances in Grangeville, 2 and 4:30 p.m., Saturday, June 17, at the lot behind the Grangeville Senior Center on the Truck Route.
Purchases tickets now at Asker's Harvest Foods and Cash and Carry Market in Grangeville; Cottonwood Foods; Whitewater Market in Riggins; and The General Store in White Bird. Tickets are $10 for adults, $7 for seniors (65 and older) and children 2—12; and free for kids younger than 2. Admission at the door is $13 and $8, respectively.
The event is sponsored in part by the Grangeville Chamber of Commerce.
Lara said a lot of friends of hers and Mike's have lost their jobs since the closing of Ringing Brothers Circus.
"Imagine your college, your traveling hometown, just gone," she lamented. "That's about 800 people out of work – it certainly makes for an interesting unemployment line."
The Smiths circus friends will be spending Father's Day weekend with them at Three Rivers and the Kooskia Motel. They plan to reminisce, raft and laugh.
"It will be a lot of fun, and we sure hope to see everyone at the circus," Lara added.
Visit cmcircus.com to see photos and find out more information on this year's show.
More like this story

Latest stories
Latest video:
Grangeville defense stops McCall