Wednesday, January 18, 2017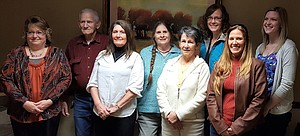 Representatives from the cities of Culdesac, Grangeville, Kamiah, Kooskia and Riggins were recently honored by the Clearwater Economic Development Association (CEDA) for the completion of the 2015 training course entitled "Community Projects: Putting All the Pieces Together for Success."
The following individuals completed 30 hours of training, provided by CEDA staff: clerk-treasurer Tonya Kennedy and deputy clerk Jordan Wasem of the City of Grangeville; clerk-treasurer Teresa Lytle, mayor Charlotte Schilling, and public works director Kelly Frazier of the City of Kooskia; mayor Glenna McClure and clerk-treasurer Brenda Tilley of the City of Riggins; deputy clerk Stephanie Gaston of the City of Kamiah; and council members Connie Boe and Larry Abele, clerk-treasurer Noreen Durante, deputy clerk Carol Spencer, and mayor Robert Sharp from the City of Culdesac.
The training, which took place during a nine-month period, was designed as a "train-the-trainer" approach to empower rural communities to successfully develop, fund and complete community projects. Topics covered included financing, successful public outreach strategies and grant writing. Participants applied the training toward a project they identified in their community throughout the nine-month training period. This combination of formal training and hands-on application of skills was designed to empower participants to address other needs and complete future projects independently and confidently.
Projects undertaken by communities during this training included the development of an improved stage in Riggins City Park, the addition of bathrooms in Grangeville's Heritage Square, renovations in Culdesac City Park, and the continuation of ongoing projects in Kooskia and Kamiah. Projects will continue to be developed and led by training graduates with technical assistance from CEDA.
CEDA is the regional planning organization for the five counties of North Central Idaho. Members include Clearwater, Idaho, Latah, Lewis and Nez Perce counties, and other cities and stakeholders within each of those counties.
Past participants in the training program include the cities of Cottonwood, Nezperce, Juliaetta, and Potlatch. The third and final year of training is under way and includes the cities of Stites, Craigmont, Pierce, Kendrick and Weippe. Representatives from the non-profit Animal Rescue Foundation (ARF) and the Kendrick "Save Our Pool" campaign will be participating as well.
Training is funded by USDA's Rural Community Development Initiative and CEDA membership.
More like this story

Latest stories
Latest video:
Neighborhood Experts: Idaho County Propane