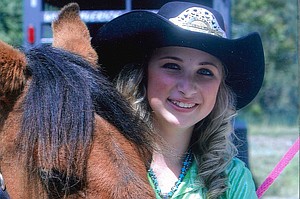 WHITE BIRD — "Being royalty means building confidence in not only in myself but for all the little cowgirls I meet along the way," said Bella Klapprich.
Klapprich is the 2016 White Bird Rodeo Queen.
Klapprich is getting ready to enter her sophomore year at Grangeville High School. She is the daughter of Bilejo Klapprich and Melissa Klapprich of Grangeville and the granddaughter of Rick and Mickie Miller of Grangeville and Lloyd and Judy Uhlenkott of Cottonwood. She is the oldest of five siblings: sisters Demi, 12, Elli, 9, Julia 5, and brother, Tate, 12.
"I enjoy being an inspiration for the next generation of cowgirls and cowboys," Klapprich said.
Klapprich has served as both Triple Bar Drill Queen and Riggins Rodeo Queen. She is a member of both the Triple Bar and Riggins Rodeo drill teams. She plays volleyball and basketball at GHS, is in the band and choir and has been a member of Shirley's Dance Studio for 13 years.
Klapprich has had support from the White Bird Rodeo Committee, "my nana and papa and amazing mother," she said.
"I would also like to thank Cross Country Saddlery for my amazing chaps, vest and cuffs," she said. "None of this would have been possible without the love and support of my mom, nana, papa, and Aunt Kami, who is an inspiration to me.
Twenty years ago, Klapprich's mom was White Bird Queen and her Aunt Kami was queen in 1999.
"My nana and papa help organize and run the show, my mom sings the National Anthem and Aunt Kami carries around Old Glory," Klapprich said. "It's a family affair and I hope to make them all proud."
Klapprich attends Mountain Shadows Baptist Church and loves baby-sitting her "future rodeo queen cousins," Kendall and Karly.
More like this story

Latest stories
Latest video:
Neighborhood Experts: Idaho County Propane