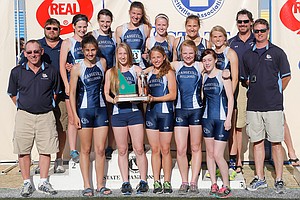 Grangeville teams place third, fourth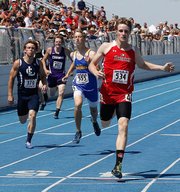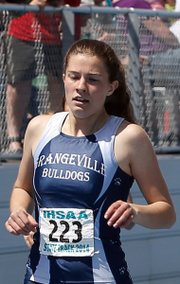 MIDDLETON — Whoever wrote the ancient proverb that "good things come to those who wait" must not have been a sprinter. The 2A boys 100 meter dash finale last Saturday, May 17, was decided by smaller fractions of a second than the hundredths ordinarily measured with help from a camera at the finish line wired to a computer wired to the starter's pistol.
Officially, Blankenship and Wendell sophomore Johnny Lancaster both finished in 11.33 seconds, though Lancaster was seen an eyelash ahead.
And by that barest of margins, Grangeville senior Quaid Blankenship — a multi-medalist who found himself chasing the first placers on the track his sophomore and junior years — was again denied the podium's top spot.
But only for another hour.
When Blankenship broke through to win individual gold in the 300 meter hurdles later Saturday afternoon, he left no doubt. Blankenship put a half-second between himself and his nearest competitor (Reed Jeppe of Nampa Christian). Finishing in 39.31 seconds, he broke into the sub-40s for the first time and cut a full second off of his previous season best.
Blankenship also placed fourth in the 200 (23.11 seconds).
In the field, junior Drew Lindsley won his first discus title with a throw of 168 feet, eight inches. He and his sophomore cousin Cole Lindsley placed fourth and fifth in the shot put, respectively. Stevens added a fourth-place medal in the triple jump.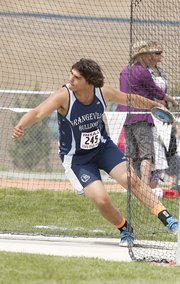 On the track, junior Michael Stevens placed second in the 110 meter hurdles (15.77). Grangeville's medley relay (3:47.90) run by Stevens, Blankenship, Diego Barela and Danny Paluh scored five team points by finishing fourth.
The GHS boys squad placed fourth with a total of 65 points, putting the Bulldogs a dozen ahead of fifth-place Nampa Christian and 13 behind third-place West Side.
On the girls side, Grangeville junior Kaleala Bass won the 400 with her first sub-60 time of the season (59.69), lagging her sophomore year state preliminary time by a scant two-hundredths.
Bass notched a new personal record with a 2:18.90 in the 800 meter run, in which she trailed only Soda Springs senior Kelsey Yamauchi. Bass placed third in the high jump, clearing five feet.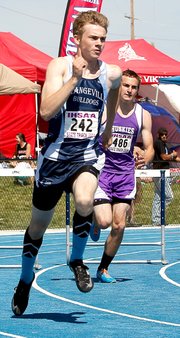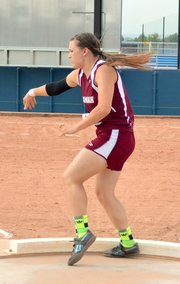 Bass also anchored a state champion medley relay led off by sophomore Sarah Wilson, junior Erica Fortin and sophomore Hailey Sullivan — and the group's time of 1:51.23 marked a new school record.
Sullivan took second in the 2A girls 100 (12.89) and 200 (26.36) runs, chasing North Fremont senior Hannah Brown and holding off Nampa Christian senior Rachel Miller.
Madison Brown (15-6¼ in the long jump) and the 4x100 relay of Wilson, Fortin, Maggie Chmelik and Sullivan both scored sixth-place finishes.
As a team, Grangeville scored 62 points and tied Soda Springs for third.
Relays boost PHS girls team to fourth
MIDDLETON — Prairie High School junior Lucas Arnzen scorched the track t the 1A state championships held last Friday and Saturday, May 16-17, winning the 400 by nearly a full second (50.89) and medaling in both the 100 (third, 11.69) and 200 (fourth, 23.31).
As a team, the PHS boys scored 30 points and placed ninth — but were out-done by the Prairie girls, who took fourth with 53½ and missed a share of third by a half-point.
On the girls side, the quartet of senior Keely Schmidt, freshman Mykaela McWilliams, sophomore Shayla VonBargen and sophomore Krystin Uhlenkott torched the 4x100 and 4x400 relay fields. Setting school records in both relays, the Pirates clocked a 51.42 4x100 and edged higher-seeded Nezperce by nearly two full seconds with a 4:12.25 in the 4x400.
Individually, McWilliams placed second in the 100 hurdles (16.25) and fourth in the 300 hurdles (48.38); Uhlenkott placed third in the triple jump (33-5¾) and fourth in the long jump (15-4); senior Brandi Gehring placed fourth in the high jump (4-8); and freshman Chaye Uptmor placed fifth in the 800 (2:30.99).
On the boys side, junior Peter Spencer cracked the top five with a 4:42.45 mile time; Arnzen and Spencer combined with sophomores Brandon Higgins and Isaiah Shears to post a 3:49.38 good for fourth in the medley.
CV vaulters medal
MIDDLETON — Freshman Trey Pfefferkorn and junior Savannah McHone both launched themselves to fourth-place pole vault medals at the 1A state track and field competition May 16-17.
Pfefferkorn cleared 11-6 and McHone cleared 7-9.
Eades' shot strikes a new Kamiah mark
MIDDLETON — Junior thrower Brooke Eades set new personal and school records with her final throw of the 2014 track season, dramatically bombing the four-kilo shot 40 feet, 1½ inches to reclaim the lead from the 2013 1A state shot put runner-up, Tri-Valley senior Hillary Hollon. Hollon hadn't topped 38 feet this season after topping 40 at state last year, but set her season best on her final throw — and took the lead from Eades — with a 39-6.
But Eades won her first state title with the best throw of her career.
The Kamiah boys scored 34 points as a team on two strong relay runs and high individual finishes by sophomore Taylor McCallister (third in the pole vault), sophomore Parker Whipple (sixth in the triple jump), junior Jannik Koopmeiners (third in the 110 hurdles), sophomore Chris Pethtel (sixth in the 110 hurdles).
Kamiah's 4x400 and 4x100 relays took second and fourth places, respectively.
Mead, Shepherd 7th
MIDDLETON — Salmon River's representatives came up barely short of the podium, as junior Jimmy Shepherd cleared 11-0 in a 1A pole vault field jammed with 11-6s. Senior Thomas Mead placed seventh in the triple jump.
Latest stories
Latest video:
Neighborhood Experts: Idaho County Propane