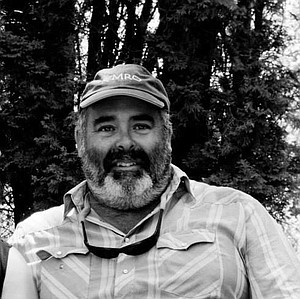 RIGGINS – What happens when friends try to think of a way to help someone in need? A unique – and fairly wet – way of raising funds.
The Jump in for Justin fund-raiser started in Riggins when Tracy Bird of Main Street Hair wanted to help the husband of her friend and Main Street Hair nail technician Lynda Mann.
"Lynda's husband, Justin, was diagnosed last year with acute myeloid leukemia. I had friends in Missouri where I used to live who I saw completing this Cold Water Challenge for charity and had an idea," Bird said.
It wasn't long before that idea formed into the Jump In for Justin Facebook page and offered the challenge of "calling out" friends and giving them 48 hours to show support by jumping into a cold body of water.
"You pay $5 to the fund, video the jump and call out three more people," Bird explained. "If you opt out of jumping in, you pay $20 but you then call out four people and challenge them."
Those jumping in and calling out post a video to Facebook and tag all members they all out, along with Lynda Halstead Mann so she can watch and share with Justin.
"So far we've collected more than $1,000 and much more has been pledged in the infancy of this," Bird said. "It just kind of exploded and it's so exciting."
The Jump in for Justin Facebook page is sporting a variety of river-jump videos as well as a clever do-it-at-home bathtub and shower versions.
Justin is a government trapper and well-known in the town of Riggins and beyond, Bird said. A wild game potluck fund-raiser and silent auction has been set for Riggins City Park Aug. 23, 5 p.m.
"Right now Justin and Lynda are in Seattle where they will stay at least until July," Bird said. "Justin had a bone marrow transplant in February and is recovering there."
Funds raised will go toward medical expenses as well as travel, lodging and medications.
Those who wish to donate can drop off money at Main Street Hair Co. or The Tourist Trap in Riggins.
To donate to the silent auction call Bird at 628-3350.
More like this story

Latest stories
Latest video:
Neighborhood Experts: Idaho County Propane