Wednesday, March 26, 2014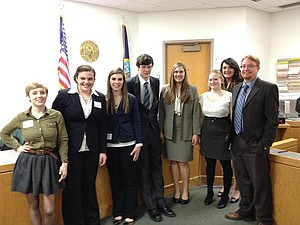 GRANGEVILLE — Guilt or innocence – and a whole lot of arguing, witnessing and research – hung in the balance recently as Grangeville High School students took part in a hands-on trial.
On March 8, the Grangeville Mock Trial team traveled to Coeur D'Alene to participate in the North Idaho district mock trial competition.
Participants and attorney mentor are Heather Nelson, Lily Willig, Carlee Lothspeich, Joseph Higgins, Lila Musegades, Katherine Craig, Lauren Goldman and Adam Green, attorney.
Awards were voted on by the opposing team for best lawyer and best witness. Joey Higgins, Goldman, Lothspeich were recipients of the best lawyer awards while Craig received a best witness award and Musegades received two best witness awards. Musegades was also the recipient of both the outstanding witness medal and the outstanding lawyer medal. Only six of these were awarded to more than 85 participants. These medals were provided to participants by the attorneys who judged and voted for them.
The team was accompanied by Becky Goldman and Jenneane Musegades. The group hopes to make this a club at GHS and continue to participate. This is the second year that Grangeville has participated in the Idaho High School Mock Trial competition sponsored by the Idaho State Bar.

"On March 8, they competed in the regional competition for North Idaho held at the Kootenai County Courthouse in Coeur d'Alene. At the regional competition they presented both sides of a civil case that involved breach of contract and tort law issues," explained Green. "The kids performed really well, winning one of three rounds. I'm very proud of all their hard work. The Idaho High School Mock Trial competition is a fun and rewarding opportunity for students to learn about the law and our legal system. I hope that Grangeville continues to participate in the program for many years to come."
"This case is created by attorneys and judges for teenagers to see how the court system works and to gain knowledge on protocol and expectations of attorneys," explained Lothspeich. "This year we tried a civil case about a failed re-jump of the Snake River Canyon in Twin Falls and how the failure broke the contract."
This exercise gives students insight into the consequences of signing a contract without fully understanding what they are agreeing to.
"The team would like to give a huge thank you to Adam Green for being a wonderful coach for the last two years and making this event possible," Lothspeich added. "It is people like this that make a huge difference not only in the community but in other's lives."
More like this story

Latest stories
Latest video:
Neighborhood Experts: Idaho County Propane