Wednesday, March 26, 2014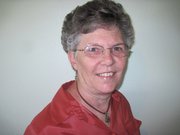 COTTONWOOD — Well, it's officially spring and things are starting to green up, but it is coming pretty slow due to the cold weather. A few farmers are getting in the field. Most of the baby calves are here. It's fun to watch them race around or play king of the mountain. They are just like a bunch of kids when they get together.
Jane Burgess will be teaching a beginner quilting class on April 12 beginning at 10 a.m. You will need to bring a sewing machine and know how to use it. You must use 100 percent cotton fabric. Jane will provide fabric if you don't have any. You will complete two projects during the class. The cost is $10. Call Jane to preregister by April 11 at 962-5200. Place for the class will be determined by the number of people registering. Bring quilting supplies if you have any and a sack lunch.
Congratulations to Nicole Wemhoff who was the first-place winner in the Voice of Democracy Contest for VFW Post #4902. She also won third place at the district level. She received a plaque and certificate and $100 check for each level. Chaye Uptmor was second in the post competition and Sarah Chmelik was third.
Be sure to mark your calendar for soprano Elizabeth Nuxoll's free vocal recital on Friday, March 28, at 6:30 p.m. in the Monastery of St. Gertrude Chapel. The address is 456 Keuterville Road. She has a beautiful voice.
Happy birthday on April 2 to Fr. Paul Wander, pastor at the Catholic Tri-Parish in the Cottonwood area. We appreciate his work here with us.

Happy birthday to my co-worker at the library, Laurine Nightingale. Her family celebrated the day at Keuterville Pub and Grub.

All Knights of Columbus members and their families are invited to participate in the roadside cleanup on Saturday, April 5. We will be working with the Cottonwood Scouts who are sponsored by our Council 1389. We will be meeting at 8 a.m. at the KC Hall for the mandatory safety briefing. We will depart immediately for Highway 95 to our two-mile stretch of road heading north. We should be finished by 10:30 a.m. Come out and participate and support our community and our country. Idaho is too great to litter.
The next Engaged Encounter Weekend for our area will be held April 25-27 at the Spirit Center, Monastery of St. Gertrude. All engaged couples planning summer weddings should consider this retreat, as our next retreat is not until Sept. 19-21. Website to print the registration form: www.ceelewiston.org. Contact our registration couple with questions: Eric and Alea Wassmuth at 962-2372 or windyw@mtida.net. Plan ahead as an Engaged Encounter is required prior to being married in the Catholic Church.
The Tri-Parish youth group will be selling cookie dough for the next four weeks. On April 5 and 6 the youth will be taking orders after Mass. All proceeds for these sales will go toward the 2016 mission trip to Haiti.
More like this story

Latest stories
Latest video:
Neighborhood Experts: Idaho County Propane