Wednesday, March 26, 2014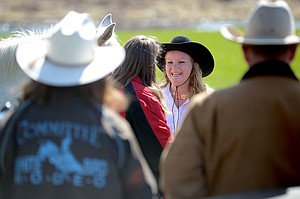 WHITE BIRD — A girl for whom the White Bird Rodeo was her first rodeo, Dakota Matson, 16, of Nezperce, was crowned queen of the 25th Annual White Bird Rodeo last Saturday, March 22. Daughter of committee members Delbert and Dee Matson, she always helps "get ready for the rodeo and other functions at the rodeo grounds," she wrote.
A freshman at Nezperce High School, Mattson is involved in volleyball, horse 4-H and FFA steer project. She also enjoys fishing, camping, hunting, horseback riding, drawing and baking.
"I enjoy the community of White Bird and they always make me feel welcome," she said. "I have helped with this rodeo and they are like a second family to me."
She is a former princess of the Cottonwood Riding Club and a former Riggins Rodeo princess (2013).
Outgoing White Bird Rodeo queen Hannah Ross set the pattern for the tryout last Saturday. Matson was the only entrant; organizers said many up and coming area girls were simply too young to enter this year.
Latest stories
Latest video:
Neighborhood Experts: Idaho County Propane