Wednesday, March 19, 2014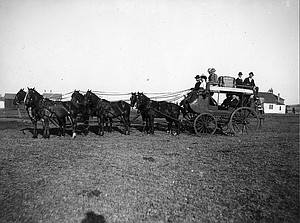 10 YEARS AGO
MARCH 17, 2004
•The Grangeville City Council approved the resignation of Fire Chief Dave Williams from the Grangeville Volunteer Fire Department. Williams has served 24 years with the department and was appointed chief in 2000.
•Frank and Sheila Bruno and family of Cottonwood put their lives on hold for a year to serve in Romania, the homeland of their youngest daughter, Aurelia, whom they adopted in 1999.
20 YEARS AGO
MARCH 17, 1994
•A bulletproof vest is credited with saving the life of Grangeville Cpl. Larry Stuck when he was attacked by a knife-wielding 16-year-old female.
According to Grangeville Police Chief Bob Wilbanks, Stuck responded to a domestic disturbance call at the Evergreen Apartments.
30 YEARS AGO
MARCH 14, 1984
•Free cookbooks, coupons and dozens of prizes will be a small part of the fun at the 1984 Homemakers School. With the support of area merchants, the Free Press will present home economist Charlotte Winn conducting the 2-1/2 hour recipe demonstration program. Admission is free and everyone is invited.
40 YEARS AGO
MARCH 20, 1974
•Along with a surprise snowstorm last week a surprise streaker clad in snowflakes, shoes and a sack over his head sprinted through a local pub.
After the initial surprise subsided from the appearance of the streaker, a few of the persons remarked, "Oh, I know who that is." Maybe they recognized his shoes.
50 YEARS AGO
MARCH 19, 1964
•Grangeville Wildlife Association discussed the possibility of getting a fish hatchery on Clear Creek near Kooskia. They also discussed establishing a lake in Idaho County for recreational purposes.
Main and adjacent sidewalks have been checked by city officials who have made recommendations for replacing or repairs on 15 properties.
60 YEARS AGO
MARCH 18, 1954
•John M. Spencer was appointed to the State Board of Education by Governor Len Jordan.
•Prairie Drive-In is Grangeville's newest business. It is owned by C.H. Ketcham and H.O. Pell. Work started Tuesday morning on the structure.
70 YEARS AGO
MARCH 24, 1944
•Mrs. Glenn Ailor was elected president of the Parent Teacher Association.
80 YEARS AGO
MARCH 15, 1934
•With the close of the basketball season the athletic interest of Grangeville High School is being centered in tennis and track.
•POLLOCK – Loren Clay spent the past week at White Bird and Grangeville buying hides and wool.
90 YEARS AGO
MARCH 20, 1924
•Ed Sharp has leased the Garber building and is making alterations preparatory to opening an automobile service station, about April 1.
100 YEARS AGO
MARCH 19, 1914
•Kamiah clay, which is now being exploited by Lewiston doctors, possesses most wonderful medicinal qualities and the cures that are being affected by its use are miraculous. The clay is the color of sulphyr and was discovered 18 miles above Kamiah.
110 YEARS AGO
MARCH 17, 1904
•LOWE – Our little burg is getting to be quite a trading point. Two general stores, one implement and hardware store and two blacksmith shops.
120 YEARS AGO
MARCH 16, 1894
•As a result of inspector Vailee's visit the mail is no longer detained at Waha all day Sunday as formerly and arrives on Sunday instead of Monday.
•The Free Press is one of only seven papers in the State of Idaho to which a guaranteed circulation rating is accorded in the American Newspaper Directory for 1894.
More like this story

Latest stories
Latest video:
Neighborhood Experts: Idaho County Propane