Wednesday, March 19, 2014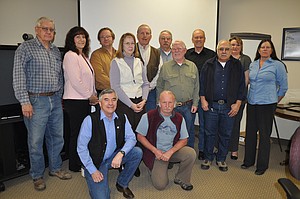 GRANGEVILLE – Members of the North Central Idaho Resource Advisory Committee were recognized for their achievements last week by Nez Perce-Clearwater National Forests Supervisor Rick Brazell.
The 15-person committee provides recommendations to the Forest Service on development and implementation of special projects on federal lands as authorized under the Secure Rural Schools and Community Self-Determination Act.
At its meeting last Wednesday, March 12, the RAC reported having distributed $5,301,639 from 2009 to 2013 on projects including invasive weeds, fisheries, forest health, infrastructure, native plants, roads, trails and watershed. RAC monies also help fund local school districts, as well as Idaho County operations, including road infrastructure and search and rescue.
"But it's not just money," noted Supervisor Rick Brazell, Nez Perce-Clearwater National Forests, but that the RAC is also fixing problems on the land ranging from access to wildlife, and that is also benefitting local communities "that is going back into people's salaries and impacting lives."
RAC members have proven to be a collaborative bunch of volunteers, according to Brazell, and the Forest Service staff appreciates their years of dedicated efforts.
Members recognized were Brett Bennett, David Bodine, Gary Lane, Don Heckman Chris St. Germaine, Dennis Baird, Bob Hafer, Kent Henderson, Steve Didier, Bob Abbott, Susie Borowicz, Don Ebert, Jim Rehder, Emmit Taylor and Randy Doman.
"A recognition like this means a lot," said RAC Chair Kent Henderson, that through committee efforts representing a variety of interests "we're doing something right."
More like this story

Latest stories
Latest video:
Neighborhood Experts: Idaho County Propane