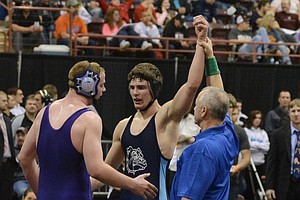 NAMPA — Grangeville's Phillip Walters made short work of his first opponent last Friday, Feb. 28, at the 2A state wrestling tournament, using only 15 seconds to pin Wes Harris of New Plymouth.
So quickly did Walters move — from neutral to a takedown to hooking Harris' arm to driving his chin into Harris' shoulder, planting the shoulder on the mat — Harris may not have realized he was matched against the state's very best.
Walters (195) went on to prove it so, topping top seeds Nick Andersen of Firth and Zak Clark of North Fremont, both of whom won their first two rounds by way of first period pins. Walters' route went through Anthony Benavidez, who, at 41-13 this season, entered as one of just two 40-match winners in the weight class.
Clark, at 44-5, was the other. To reach the March 1 final, Walters worked his way to a 6-0 win over Benavidez and a 4-0 win over Andersen.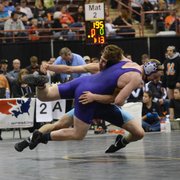 In the finale, a 0-0 score persisted between Walters and Clark until Walters — Clark's arm draped over his head and neck — gripped Clark by both legs, picked him off his feet, and torqued him to the mat.
Pressing the attack, Walters tried to snag the elbow of Clark's free arm — the right arm — with his free right hand while driving Clark's left shoulder toward the mat with his own left shoulder.
Clark rolled his hips and freed his shoulder, but lost control of Walters' head, allowing Walters to shift his attention to the right shoulder. Hooking Clark's head with his left arm, Walters nearly finished off his last high school match with a pin.
Clark eventually rolled through Walters' grip onto his belly, but Walters' 5-0 lead for the takedown and the near fall were insurmountable — and the score could easily have been more lopsided, GHS coach Tyler Bransford indicated after the match.
"He stayed in control after that. The refs missed five points that should have been awarded and weren't," Bransford said. "Luckily we won by enough those weren't needed."
"That was really exciting."
Said Walters: "I want to thank my coaches, coach Bransford, Lonnie and Donnie Keeler, and my wrestling partners for helping me."
Photo Gallery
Boys State Wrestling 2014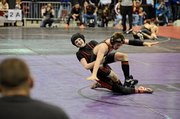 Three other area wrestlers made it to the podium: Zach Wilkins (145) of Kamiah placed fifth with a win over Cody Appa of McCall-Donnelly in his last match Saturday; Dally Ratcliff (126) of Prairie pinned Cody Edwards of St. Maries in his first match Saturday to assure himself of sixth; and Hunter McWilliams of Prairie (152) topped Armando Jimenez of Wendell 7-6 in his first Saturday match to lock up sixth.
Eliminated early on Saturday were Clearwater Valley's Tyler Morrow (170), Trae Dominguez (170) and Garrett Fell (220).
Eliminated on Friday were CV's Caleb Schlieper (138) and Bradley Bowen (195), Grangeville's Frankie Zumwalt (132), Kamiah's Ian Anderson (160), Ryker Grimm (160) and Dillon Wilcox (170), and Prairie's Kellie Heitman (113) and Nathan Gimmeson (120).
More like this story

Latest stories
Latest video:
Neighborhood Experts: Idaho County Propane