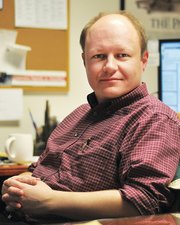 When it comes to community empowerment, we're right in line with the old adage of "Give a man a fish and you will feed him for a day. Teach a man to fish and you will feed him for a lifetime."
Unless he doesn't like sushi — then you also have to teach him to cook.
The Clearwater Economic Development Association last week announced 14 area communities – including in our region: Grangeville, Stites, Kooskia, Riggins, Cottonwood, Nezperce, Craigmont and Kamiah – have signed on to participate in a three-year "train the trainer" program to teach individuals how to complete development projects from start to finish. Funded with $152,492 through the United States Department of Agriculture's Rural Community Development Initiative program, CEDA's "Putting All the Pieces Together for Success" will train representatives from these areas to successfully develop, implement and sustain community projects, and also how to transfer those skills to other community members and organizations. Also, CEDA will assist each participating community in completing one priority community project.
We're cautiously optimistic.
Case in point: the Horizons program came to 14 rural communities (an odd coincidence) including Grangeville, Kooskia and Stites in 2007, through the Northwest Area Foundation and the University of Idaho to "reduce poverty and empower citizens to make rural Idaho a place where everyone has the opportunity to thrive."
To be fair, that legacy is carried on successfully today in the Grangeville Recreation Committee that initiated and continues to improve on Pioneer Park Christmas lighting; and as well with the Grangeville Farmers' Market, and indirectly both the Camas Prairie Food Bank community garden and Grangeville Community Foundation.
But poverty reduction and citizen empowerment? Plans for leadership/business development and downtown promotion were on the skids already when Horizons ended a year later. The same shortly became true for other Horizons groups including community theater and an education support team. But don't take our word for it: You ask someone about Horizons in these three communities today and what came about as a result.
We're not here to dump on Horizons as it takes two to tango; residents of these communities needed to not only step up but also stay engaged to grow beyond the baby steps Horizons taught them. Our concern is on sustainability: As good as the CEDA program sounds, will it provide the substantive hand-holding so that critical mass can be achieved in community efforts that when let go will drive themselves to thrive and grow? And as important, will the program meet its stated aim: to promote economic growth, support rural business development and create jobs?
Again, we're cautiously optimistic, hoping the opportunity both awakens and reignites a passion for community improvement as our region needs excitement and fresh drive in tackling the poverty, economic uncertainty and also lost sense of identity that afflict our towns and neighborhoods. CEDA's program is offering another run at this ring. Potential participants need to be more than passionate about improving their communities; they need to be ready for the long-distance run this will entail to reach that goal.
More like this story

Latest stories
Latest video:
Neighborhood Experts: Idaho County Propane