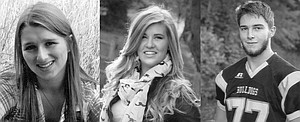 GRANGEVILLE — Three students will graduate at the top of Grangeville High School's class of 2014: Alex Nuttman is valedictorian while Alexanderia Rockwell and Phillip Walters will serve as salutatorians.
Graduation for GHS is set for Friday, June 6, 7 p.m.
Nuttman will attend the University of Idaho where she plans to earn a degree in civil engineering.
"I have my parents – Rachel Biebow, Chad Biebow and Wade Nuttman – to thank for their support," she said. "I also never could have been this successful without everyone else, including my friends and grandparents."
Rockwell is looking at several universities. She plans to enroll in pre-med studies and become a doctor, following in the footsteps of her grandfather, John Rockwell.
"My family has been instrumental in my success. Even through the worst of times we held together, we excelled, we grew strong," she said. "I proved, we proved, you can survive – no, thrive – through anything. My friends, too, held us close. The teachers were awesome, too."
Walters plans to work for the Forest Service this summer and then attend the University of Idaho in the fall, studying engineering.
"My family, teachers and coaches have pushed me toward success throughout my life," he said.
More like this story

Latest stories
Latest video:
Neighborhood Experts: Idaho County Propane