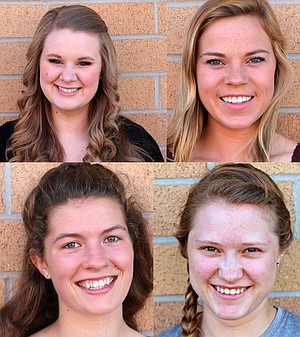 GRANGEVILLE – "We are really excited for this event and think for our first year we are doing great," said Distinguished Young Women of the Camas Prairie program co-chair Kim Johnson.
The Distinguished Young Women (DYW) event will take place locally at Grangeville Elementary Middle School Saturday, June 7, 7 p.m. Cost is $7 for adults and $5 for children and the public is encouraged to attend.
"I know the program – formerly Junior Miss — was very popular here in earlier years but I think the last time it ran was in the '90s," said co-chair Sue Johnson, mother to Kim who participated in the national program in the '80s in Alaska. "We would love to have the history if anyone has that."
Four junior girls (who will be seniors in the fall) from the prairie are participating this year: Arika Arnzen of Winona, who attends Nezperce High School; Kaleala Bass of Slate Creek, Abigail Cartwright of Grangeville and Kristin Kaschmitter of Grangeville. The latter three all attend Grangeville High School.
With the theme of "School's Out for the Summer," the DYW program will offer a full show with an opening and fitness routine, evening wear and a talent showcase.
Girls who will be juniors in the fall in home, public and private schools in Craigmont, Nezperce, Cottonwood and Grangeville are eligible for this scholarship program for next year that includes fitness, scholastic, interview, talent and poise portions.
"We really hope some of these girls come out and see what this program has to offer and get excited about doing it for the next round," Kim said.
Businesses, organizations and individuals wishing to donate to help cover expenses (school rental, franchise fee, insurance and decorations) for this or next year can call the Johnsons.
For questions call Kim at 750-6460 or Sue at 413-8428.
More like this story

Latest stories
Latest video:
Neighborhood Experts: Idaho County Propane