Wednesday, January 15, 2014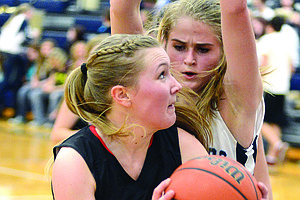 GRANGEVILLE — GRANGEVILLE — Barely a minute into the varsity opener, when Prairie girls varsity coach Lori Mader called a timeout to turn a scramble for a loose ball into an extra possession for the PHS girls, it was clear the Pirates intended to try to squeeze the maximum from every slight advantage they could find.
Prairie's all-out effort continued in the boys game, which PHS carried by a 54-48 final on Friday night. But for all their effort, the Prairie girls couldn't stem a third quarter run from the Grangeville girls, who went on to win 51-44 last Friday night, Jan. 10.
Prairie opened up a 5-0 lead in the girls game and spent much of the first quarter gambling against Grangeville's secondary scorers. As PHS tried at the Idaho County Shootout earlier this season, "they decided to guard [Chantel] Key, [Hailey] Sullivan and [Madison] Brown," Bulldogs coach Larson Anderson said. "We got open shots as a result. Other teams will try defending us that way, too, so we have to practice for it."
After a basket by Brown and a theft of the subsequent inbounds pass by Kaleala Bass (which she converted into an instant basket), Grangeville took the lead on a shot by Key set up by a pass from Bass. The Bulldogs extended the run to 9-0 when McKenzie Kennedy banked in a three-pointer a moment later. Prairie trailed by as many as seven before rallying during the third quarter, tying the game at 24-24 on a triple by Leah Holthaus and taking a short-lived lead on free throws by Kyndahl Ulmer. Key answered for Grangeville, scoring eight points during the period, to which Addie Lutz added a runner for a 36-33 Bulldogs lead at the end of the frame.
The advantage remained Grangeville's through the final buzzer, as the lead reached 10 points midway through the fourth quarter and reached 10 again on a foul shot by Erica Fortin with 1:26 to go.
Key totaled 15 in the second half and 20 in the contest. Brown scored 12 points and grabbed 10 rebounds.
•
The boys game began much the same as the girls game, as Prairie keyed defensively on Michael Wilson and scored the first eight points; Grangeville rallied with a 9-2 run, which was capped with an Austin Parks trey. But the PHS boys continued to score in spurts throughout the contest. When GHS closed within two at 16-14, Prairie scored seven straight to lead 23-14. When the Bulldogs closed within five at 25-20, Prairie scored six unanswered — unanswered until Parks wormed his way to the basket for a late layup.
Down by nine at halftime, the Bulldogs closed within a point, 35-34, during a hot-shooting run of their own, and Grangeville remained within two, 41-39, at the end of the third quarter. The Pirates produced a couple of layups early in the fourth quarter (both by Jake Bruner), and kept the game at multiple possessions with makes by Rhett Schlader and Lucas Arnzen. Grangeville closed the gap to six on a make by Layton Harris, after which Prairie advanced the lead to nine before Harris sank another triple at the buzzer.
Bruner, in his second game back from a football injury, scored 17 points for Prairie. Arnzen added 15.
Coming — The Grangeville boys are set to play at Clearwater Valley on Thursday night, Jan. 16, at St. Maries on Saturday, and at home against Colton on Monday, Jan. 20.
The Grangeville girls have a Jan. 18 visit to St. Maries coming up, followed by a Tuesday night, Jan. 21, home game against CV.
The Prairie girls will host Lapwai on Jan. 17. The PHS boys have slated home games against Potlatch (Jan. 16), Genesee (Jan. 18) and CV (Jan. 21).
More like this story

Latest stories
Latest video:
Neighborhood Experts: Idaho County Propane