Wednesday, January 8, 2014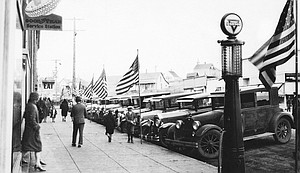 10 YEARS AGO
JANUARY 7, 2004
•COTTONWOOD – Becca and Donny Massey of Kamiah are the parents of a daughter, Raina ReBecca Renea, born Jan. 3, 2004, at St. Mary's Hospital in Cottonwood. She was the New Year's baby for St. Mary's Hospital.
•Temperatures dropped to 31 degrees below zero at Elk City.
•Grangeville City Clerk Tonya Kennedy gave the oath of office to city councilors, Georgia DeHaas, James Zehner and Mike McDonald, at Monday night's meeting.
20 YEARS AGO
JANUARY 6, 1994
•While serving on the Grangeville City Council has not always been easy, Everett Warren is proud of his service, the town and of the council's accomplishments.
Warren served eight years on the city council but chose to retire in 1993 rather than run for a third term.
30 YEARS AGO
JANUARY 4, 1984
•A flood swept through Main Street of Grangeville Tuesday before noon, flooding basements and stopping traffic.
Large chunks of ice apparently clogged the storm drains in the center of Main Street, on the block that Irwin Drug and the Shamrock Café sit on.
Bob's Radio and TV suffered a flooded main floor while the Shamrock Café next door received a flooded basement. The Shamrock Café's basement was about one to two feet deep in flood water.
40 YEARS AGO
JANUARY 9, 1974
•Seven students from Grangeville High School with Brit Groom, speaker, appeared at the Grangeville City Council Monday to ask that sidewalks be installed on D Street, the main road leading to Grangeville High School. A petition bearing 156 signatures was presented to the council.
50 YEARS AGO
JANUARY 9, 1964
•The Imperial Coffee Shop will open Monday serving all meals in its new quarters in the Imperial Hotel.
60 YEARS AGO
JANUARY 7, 1954
•Future of Border Days is uncertain because of reluctance of men to take directors' posts.
70 YEARS AGO
JANUARY 6, 1944
•T.A. Lowary, Lions Club chairman of the Cub Scouting committee, presented the charter of the Cub Section, Boy Scouts of America, to the club. Phil Shira is cub master.
80 YEARS AGO
JANUARY 11, 1934
•History of Grangeville will be a feature of the program Sunday over radio station KHQ, Spokane, says J.G. Eimers, mayor.
90 YEARS AGO
JANUARY 10, 1924
•Boomerang Club Girls will give a series of dances for the benefit of the swimming tank.
100 YEARS AGO
JANUARY 8, 1914
•Grangeville will be dry two and a half days this week. The temporary dry reign is brought about because the four saloons have licenses which expire Jan. 9 and won't be renewed until Jan. 12.
110 YEARS AGO
JANUARY 7, 1904
•Abraham Lincoln declared the men in the western mines rendered the Union as potent a service as did men on the battlefields with muskets. Thus ushered in the star of empire in Idaho. Palmy pioneer days have passed. When railroads pass near Thunder Mountain, Rapid River, Seven Devils and Buffalo Hump a new era of opportunity will open. It will eliminate the largest field of isolation in the United States and Idaho will take her allotted place in the van of Western progress.
120 YEARS AGO
JANUARY 5, 1894
•The salary of Mrs. Spedden, teacher, was increased from $45 to $55 a month. Another month of school was ordered and if funds permit, school will be maintained for an additional two months.
More like this story

Latest stories
Latest video:
Neighborhood Experts: Idaho County Propane