Wednesday, February 12, 2014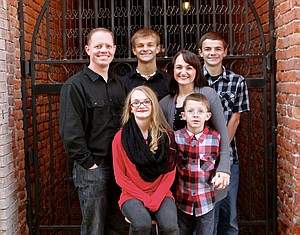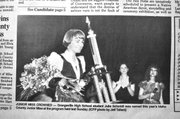 NAMPA — In 1994, Julie Schmidt was named "Junior Miss" in Grangeville. Twenty years later, some of the lessons she learned during that process are still serving her well.
Julie Schmidt West, now of Nampa, graduated from Grangeville High School in 1995 and still recalls the good times she experienced while living here.
"I love the small town. I love how everyone knows each other," she said. "Some of my best times revolve around the Fourth of July. I miss singing for the parades and rodeos."
West said the Junior Miss pageant helped her feel more confident in herself.
"My friend Jennifer Hoyt convinced me to do it with her — otherwise I wouldn't have," she smiled. "I think the best part was when I went to state. I was able to associate with some of the most amazing girls in Idaho. It helped boost my confidence in myself and it was a ton of fun!"
Following high school, West joined the United States Army to be a biomedical technician. She was sworn in for six years and completed basic training in Ft. Leonard Wood Mo., then trained in Aurora, Colo.
"That is where I met my husband, Michael West, who is from Roy, Utah. I was 19. He was 21. We told the drill sergeants that we wanted to get married. They told us we were too young and that it would never last," she laughed. "That was 17 years later and we are still very much in love."
When she was expecting her first baby she opted to be honorably discharged from the Army.
"My husband stayed in and is still in the Army National Guard," she said. "I have been a stay-at-home mom ever since – and I love it!"
She has four children: Josiah, 16; Samuel, 14; Madelynn, 12; and Stewart, 9.
West spends her time volunteering in church where she sings in the choir and is busy with all her family is involved in.
West is the daughter of Mike and Jackie Schmidt who own Cottonwood Foods and she has three sisters, all of whom graduated from Grangeville High School. Becki also entered the Army where she was an airborne military policeman. She is currently a stay-at-home mom going to school to be a medical assistant. Jennifer is living in Cottonwood and working at the store. Donna is married and is flying helicopters for tours over the Grand Canyon.
"We really enjoy living in Nampa, for one because the Nampa School District has an amazing autism program. Our little Stewart has autism. He is high functioning. And keeps us on our toes and laughing," West said. "I do miss Idaho County! I miss the slow pace, the quiet country and the friendly people. Nampa has great people too. But it isn't the same as a small town."
The West family has been through serious health issues with two of their children. Josiah was born with tricuspid atresia, a heart defect. He had to have three heart surgeries before he was 4 years old. Stewart was born with diaphragmatic hernia and was in the NICU for 2-1/2 months and had oxygen and feeding tubes until he was 2 years old.
"We have been so blessed – the military paid for all of it," West stated.
West said in addition to missing Grangeville, she loves visiting her parents in Cottonwood.
"Their house is up on the hill and they overlook the Camas Prairie," she said. "I love to sit on their deck and enjoy the quiet and the beauty! The beauty of the mountains and the prairie — I took them for granted when I grew up there. But now that I have been around the country a bit, I think it is the most beautiful."
Latest stories
Latest video:
Neighborhood Experts: Idaho County Propane