Wednesday, February 5, 2014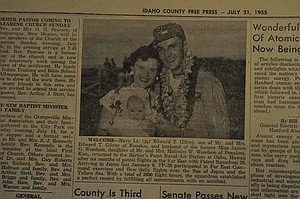 10 YEARS AGO
FEBRUARY 4, 2004
•Mt. Idaho resident Tom Reilly will be reporting to Camp Pendleton this week in preparation for deployment to Iraq in March. Reilly is a first sergeant with the U.S. Marine Corps Reserves and volunteered to deploy with the military police.
•A farewell potluck dinner in honor of Pastor George Hoyt will be held Feb. 8. He will be leaving Feb. 9 for Oklahoma where he will be making his home after a Feb. 14 wedding to Day Spencer. He was pastor at New Beginnings Community Church and owner of Hoyt's Piano.
20 YEARS AGO
FEBRUARY 3, 1994
•RIGGINS – Genevieve Bishop, 91 years young, was awarded with a "charm" from TOPS for walking 100 miles! Genevieve's picture and article appeared in the International TOPS News for February 1994. Riggins TOPS meets on Monday afternoons at the Riggins City Hall. All the TOPS people are very proud of Genevieve.
30 YEARS AGO
FEBRUARY 1, 1984
•New officers for the Syringa Hospital Auxiliary are president, Nancy Asker; vice president, Diane Walker and secretary-treasurer, Betty Alm.
40 YEARS AGO
FEBRUARY 6, 1974
•E.K. Montgomery, resident engineer for Idaho Department of Highways, reports a continual watch is still being maintained on the large landslide near Pollock on U.S. 95 south of Riggins.
50 YEARS AGO
FEBRUARY 6, 1964
•Lt. Gov. William E. Drevlow will speak at ceremonies Saturday for the dedication of the Grangeville Idaho Territorial Centennial Library.
•Grangeville Kiwanis Club has collected $4,000 to purchase band uniforms for the Grangeville High School music department.
60 YEARS AGO
FEBRUARY 4, 1954
•Unemployment in Idaho and Lewis counties hovered around the 350 mark, but anticipated increases in the number of jobless have not materialized.
70 YEARS AGO
FEBRUARY 3, 1944
•Upper and lower sections of the highway between Harpster and Stites have been widened to facilitate hauling of timber from Potlatch Forest's operations on Meadow Creek. Logs are hauled to Stites and loaded on cars for shipment to Lewiston.
80 YEARS AGO
FEBRUARY 1, 1934
•Federal government took title to all the nation's monetary gold, and President Roosevelt prepared to follow this unexampled stop with action devaluating the dollar in the hope of forcefully stimulating the present upward movement in prices.
90 YEARS AGO
FEBRUARY 7, 1924
•Survey for extension of the South Fork highway toward Elk City will commence soon; a $75,000 appropriation has been made for the work.
•Former President Woodrow Wilson died in his home in Washington, D.C. Life ebbed away as he slept. His funeral was a simple service in the family home.
100 YEARS AGO
FEBRUARY 5, 1914
•FERDINAND – A company of young people went by train to Cottonwood to a dance and returned early the next morning in sleighs.
110 YEARS AGO
FEBRUARY 4, 1904
•A law passed by the last legislature requires one-half of the money received from saloon licenses and fines to be turned over to the school district in which the money is paid. Under this law Grangeville has $400 coming.
120 YEARS AGO
FEBRUARY 2, 1894
•Taxes are being paid quite rapidly. The Grangeville deputy collector has receipted for more than $100 this week.
•A man in Washington proposes to put in a telephone line from Lewiston, if we will donate him $500.
•At the masquerade we note a few names and what they represented: W.W. Brown, milkmaid; Mrs. Ingram, Topsy; J. McGrane, negro girl; Emily Robie, Red Riding Hood, and many others.
More like this story

Latest stories
Latest video:
Neighborhood Experts: Idaho County Propane