Wednesday, April 23, 2014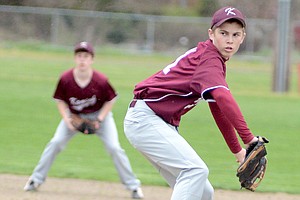 KOOSKIA — Clearwater Valley's defense turned a run of grounders induced by pitcher Kieran Owens into a continuous Kamiah presence on the basepaths last Thursday afternoon, April 17 — and Kamiah's hitters brought the baserunners around to score at least one run in each of the final five innings of a 9-7 victory.
For the imperfect defense Kamiah played, relief came from starting pitcher Branson Ballantyne, who fanned 11 Rams on the afternoon on the mound and added key base hits during his turns to bat.
Ballantyne drove in two runs on two singles and got support from five hitters who each singled: Jacob Adams, Thomas Harper, Nick Grachanin, Chris Olive and Kyl Donaldson.
CV's Owens smashed a double deep into left-center as part of a three-run Rams rally early in the contest; he limped in to third and Kamiah's hitters began making solid contact with his pitches the next inning.
CV got hits from Dillon Fisher, Cody Morrow, Zack Krieger, Trevor Wilson and Kaden Carr, but Ballantyne shut the Rams out during the fourth, fifth and sixth innings and stopped a rally to secure the win after allowing one run in the seventh inning.
Kamiah carried a 13-9 lead into dusk at home against Genesee the next day; that game is scheduled to resume on Saturday, April 26 in Genesee.
Up next, Kamiah will host Troy at 4 p.m. Thursday, then visit Genesee at noon Saturday, before hosting Highland next Tuesday, April 29.
Orofino sweeps GHS; Bulldogs bounce back
OROFINO — Grangeville was swept by Orofino in a pair of league games on April 15, and hammered Pomeroy in response last Saturday, April 19. Orofino stole a 4-0 win from GHS ace Jasper Sabatino on the strength of a two-hitter by Josh Walker; the Maniacs rode their offense to a 12-7 victory that boosted Orofino to the top of the Central Idaho League.
Sabatino yielded just one hit during his start against Pomeroy, which GHS won 4-0 with hits from Layton Harris, Austin Parks, Alex Koberstein, Sabatino, Michael Wilson and Jack Lawrence.
Grangeville scored six runs in support of pitchers Shane Wood and Koberstein during the late game against Pomeroy, a 6-3 Bulldogs victory. Sabatino swung the hot bat for two hits including a double.
More like this story

Latest stories
Latest video:
Neighborhood Experts: Idaho County Propane