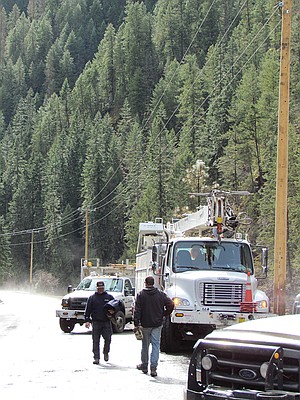 Distribution line repairs are in place following last week's wind damage along State Highway 14 that disrupted power service to 657 Avista customers on the Elk City/Dixie line for approximately 21 hours.
Meanwhile, Avista is working with state and federal agencies on ensuring the emergency line in place conforms to their agencies' requirements.
High winds last Tuesday, March 25, blew down trees, one of which took out five utility poles – at least three sheared off at the base — in the vicinity of milepost 25, disrupting power at 1:50 p.m.
"None of us had ever seen anything like it happen before," said Jeff Scott, Avista district manager in Grangeville. "It was pretty unique."
Overall, three crews – one from Grangeville (led by lineman Brad Arnzen) and two from Clarkston – were dispatched for repair efforts, restoring power that Wednesday at 10:10 a.m.
"The Avista crews took what would have been a four- to five-day outage and were able to reroute the line down onto the highway near milepost 26," said Scott. Crews worked through the night to accomplish the rebuild. Some additional cleanup is still needed, including removing old power line off the hillside.
"We were very fortunate that the line was damaged in an area that we had an alternative solution to quickly rebuild the lines in," he said. 
At this point, Scott is working with both the U.S. Forest Service and also the Idaho Transportation Department on ensuring the new emergency line section meets with their requirements, such as for clearance issues. He has also started the permitting process – which, he added, can be quite lengthy — on allowing this line to remain. Currently, Avista has a permit for a 30-foot easement in this corridor to run its utility lines through the national forest, as well as an ITD special use permit.
"It's all looking really positive at this point," he said.
If the emergency line is determined not appropriate, Avista would then look at repairing the line at its original location, depending on whether that meets with Forest Service assessments for the corridor.
"We just want the best long-term solution that meets everyone's concerns," he said.
Latest stories
Latest video:
Neighborhood Experts: Idaho County Propane