Wednesday, September 25, 2013
Grangeville — GRANGEVILLE — "Change is always difficult at first; that doesn't mean it's bad," said Steve Higgins, Grangeville High School principal.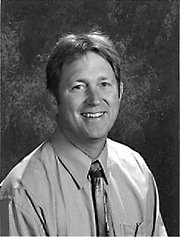 Higgins served on the Governor's Task Force for Improving Education, which recently gave its recommendations to Gov. Otter for review and implementation. Among items on their list is the hot-topic Idaho Core Standards.
"For GHS, there is not a lot of difference in what we've already been doing," Higgins explained. "What we teach is not so much different but how we teach it and how we ask for students to give feedback may be."
Higgins said he has heard the former core curriculum described as "a mile wide and an inch deep."
"What we're trying to do is go a little the other way – an inch wide and a mile deep," he said. Common Core State Standards (CCSS) are being discussed voluntarily by most states across the nation.
If each state implements CCSS, Higgins said, then students across the U.S will be on a more level playing field. This would help with students moving in from other areas.
Literacy is a large part of Idaho Standards and the CCSS and students will be expected to make greater strides in knowing how to communicate orally and on paper through writing in all subject areas.
"Instead of just memorizing dates and spitting them out for a test, there will be more writing, more thought-process questions which require students to think about cause and effect," Higgins explained. "There will be those 'why' questions. Why did the war take place? Why and how do we use geometry?"
Teachers are working in their collaborative time to rework lesson plans that need tweaking and discuss how they can carry curriculum and core standard expectations across the board.
Though Higgins sees value in the CCSS and the utilization of more writing lessons, he realizes there are still a lot of questions up in the air; he also wants to keep in mind "kids are kids."
"We still need to make school interesting and even fun enough so kids want to continue coming and see short-term as well as long-term benefits to the education process," he said. "I do worry sometimes that we are throwing too much at kids too early. There are a lot of expectations on kids at a younger and younger age."
Higgins said he also feels Idaho students are already competing "just fine" following high school graduation.
"I can tell you stories and stories about students all across the prairie who graduated from our schools who are going to big-name and small colleges, who are competing in sports and academics and extracurriculars on their campuses. I can tell you about kids who are doing phenomenal in the military or who got jobs right out of high school," he said. "We have good teachers and good kids and it shows."
"I don't think it's our job to specifically fulfill the needs of big business," Higgins added. "I like the idea of preparing our students for the world and opening up new windows for them. I like the idea of preparing them for local employers. We can always improve but by and far I think we are doing a good job."
This year's freshman class will be expected to meet higher expectations through a new testing system, Smarter Balanced, in order to graduate.
"Of course, going to a new testing system is always a little scary," Higgins said. "We saw that when we left the Iowa Test of Basic Skills and when we started the ISATs [Idaho Student Achievement Test]."
Higgins said an early concern is the test is long, but it takes longer to allow students to analyze and write than to choose multiple choice answers. In addition, these tests will also take longer to score.
"What doesn't change in all of this is the core values of our community which is what guides the outcome of our kids," Higgins said. "Education is important to our patrons and if students want a quality education and are willing to work for it, it's here for the taking."
More like this story
Latest stories
Latest video:
Fly fishing clinic
Rae Brothers sporting goods hosts steel head flyfishing clinic with Mark Imus Jan. 30, 2016. Enlarge