Wednesday, October 30, 2013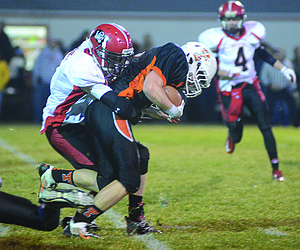 Troy — The host Trojans were credited with a 53-28 win at the conclusion of the showdown between the Whitepine League's top contenders, but the Prairie Pirates pretty well beat themselves with five turnovers.
The Trojans, who came into the contest last Friday night, Oct. 25, averaging nearly 52 points per game, started slowly, but Troy quarterback Cody Self eventually produced six scores.
On its second possession, Troy crossed midfield with five consecutive runs, but put themselves up against third-and-long with a false start. After a timeout, they handed off straight ahead for a minimal gain — then rushed to the line and handed off again on fourth down — and on a measurement, made it by a few inches.
On the next play, Self delivered a touchdown pass to Kellen Hoskins.
Prairie answered by converting a fourth-and-two near midfield, then advancing to the Troy 30 with a pass interference penalty. But with 28 seconds left in the first quarter, Prairie fumbled. The PHS defense held its ground to force a three-and-out, but Troy's punt coverage unit took the ball back by way of a another fumble.
The Trojans went up 16-0 when Self evaded two hard-charging Prairie defenders deep in his backfield, then sprinted down the right sideline — a run that covered perhaps 40 yards after first contact, but 28 from the line of scrimmage.
The Pirates answered with a 12-play drive on which they converted two fourth downs, the second of which went seven yards for a touchdown pass from Bruner to Tannor Ross.
Troy responded with a 56-yard touchdown pass from Self to Zach Bafus on a fourth-and-two. Troy scored again late in the second quarter. Despite a desperate and brilliant Bruner-led drive in the last seconds of the quarter, Troy led 28-8 at halftime.
Taking over at their 17 with a minute left in the first half, Bruner converted three straight first down throws, then hit Lucas Arnzen on a deep throw. Troy stuffed a last-second run at the goal line.
In the third, the Trojans offense scored back-to-back touchdowns off of turnovers: once after Self picked off a pass, again after Prairie lost another fumble.
With Troy's total out of reach, Calvin Hinkelman and Lucas Arnzen scored for Prairie. Perhaps out of respect for Prairie's ability to score quickly, Self exited the game only after injuring his leg after delivering a deep pass while leading 47-22 in the fourth.
Coming — Prairie (6-2, 4-1) will host Potlatch on Nov. 1. Prairie secured a state playoff berth in this week's loss.
Latest stories
Latest video:
Saturday Accidents on US Highway 95