Originally published October 23, 2013 at 06:00a.m., updated October 23, 2013 at 06:00a.m.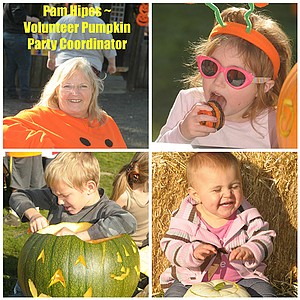 Kamiah — Four hundred seemed to be the magic number this year: 400 pumpkins, 400 cup-cakes, 400 hot dogs. These items converged with perhaps 400 participants at the annual Kamiah pumpkin carving party Sunday, Oct. 20, at Riverfront Park.
What made this afternoon party most remarkable, perhaps, is that it is completed under the guidance of Pam and Mike Hipes.
"I have to mention Mike," laughed Pam. "He allows me to be able to do this."
Although the event is sponsored by the Kamiah Chamber of Commerce in order to provide insurance, the Hipes provide all the goods.
"I planted 500 pumpkin seeds this year," explained Pam, who lives a couple miles outside of Kamiah. The Hipes live on property that was formerly a cucumber farm, she said. "So the soil is very good."
Pumpkin parties stated many years ago for the Hipes when they were residents of California.
"We started inviting the neighbor girls and then they started inviting friends and before long through the years we ended up with 35 kids in our garage carving pumpkins," Pam smiled.
The couple moved to Kamiah nine years ago and by the second year they were here they were hosting the community pumpkin party.
"It's just something we do to give back and provide a free, fun event for the entire family," she said.
Not only do the Hipes provide the home-grown pumpkins – from growing, harvesting and hauling them to the park – they also make cupcakes, purchase hot dogs and chips and supply hot chocolate.
Throughout the years the event has become a well-oiled machine: Pam gathers about 20 friends who volunteer, has men who help carry and cut tops off pumpkins, provides bags for take-home pumpkin seeds and a community seed bag for those who do not wish to take them home. In addition, carving tools, patterns and gloves as well as waste buckets and a tub for hand washing are all supplied.
"I love this time of year and we have a great time. My friend Connie even flies out from New Hampshire each year to help," Pam pointed to a woman taking photos against a setting of a hay bale and corn stalks. Those photos are set to music and displayed in the covered area on a large screen television surround by chairs.
"This is something we look forward to each year," said Cindy Ross of Kamiah who brought her three children to participate. "We love it."
"It really is awesome. We had so much fun," said first-timer Hanna Glasson of Kamiah, who also brought her three children.
As if the entire afternoon's activities and food were not enough, Pam made sure each participant left with a goody bag filled with candy and prizes. Babies were given a miniature stuffed Halloween decoration.
"It's a lot of work but it's worth it," smiled Pam. "I want to do this as long as I am able."
More like this story
Latest stories
Latest video:
Saturday Accidents on US Highway 95