Wednesday, November 27, 2013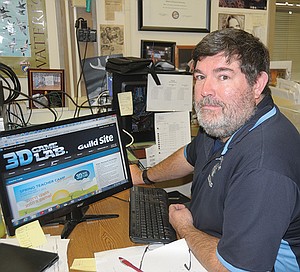 Grangeville — Ten years ago, Grangeville High School teacher Shaun Bass was honored with the Idaho Science Teacher Association Region (ISTA) 2 Award for Excellence. Recently, it was like déjà vu as Bass brought home the award a second time.
Last year, Bass was one of 21 finalists – out of a total 167 – from across Idaho for the ID21 grant and award sponsored by the J.A. and Kathryn Albertson Foundation. He was recognized with a trip to the Egyptian Theater for the awards ceremony.
"I am excited a small school in Idaho can compete with very large, prestigious programs," Bass said. "We weren't one of the final winners, but it was still a very good experience."
"What means the most to me aren't the awards, it's the students who think enough of what I do to send in nominations and affirm what I teach and how I do that," Bass added.
Bass operates on a shoestring budget – about $300 per year – for the six different science classes he teaches. These include physiology, Inquiry Science, chemistry in the community, biology 1 and 2 and honors biology.
"So of course it is always nice to have extra grant money to work with," he said.
One perk from the recent ISTA award is the membership to the association for the year which has allowed Bass to use the 3D Game Lab interactive software in his classrooms.
"These are a hybrid of on-line and hands-on assignments that allow students to try different projects," he explained. Recently this has included tracking wolf, elk and salmon populations.
Bass understands a student who is in his class for the first time may find it frustrating that he "doesn't give as much help as the students want," he said.
"But how many scientists get it right the first time?" he asked. "Part of learning, growing and problem solving is failing. I don't flunk a person for getting it wrong – only for quitting, giving up."
Bass graduated from Salmon River High School and he and his wife, Laree, attended the University of Idaho. Following that they spent two years in Alaska teaching – the first in a remote village.
"The computer there was an Apple ES and that's where I first got charged up about science and technology as a unit," he said.
The Basses made their way back to Idaho County and taught at the alternative school at Grangeville then later it consolidated with the traditional high school where he began to teach. Laree teaches at Grangeville Elementary Middle School. The Basses have now taught for 23 years.
Bass said his teaching has evolved throughout the years, in part due to how he saw students learning in the classroom.
"They were memorizing, writing things down from the book to the paper, but they were not able to actually problem solve," he said.
That is one reason he started the Inquiry Science class that allows students the hands-on trial and error methods of learning.
The other main area that has changed what Bass teaches is technology.
"There is a such a tremendous access to technology – it used to be when I needed the answer to a question from my home in Slate Creek I would have to wait until I could go to a library and research it and maybe I'd have to wait to go to the University of Idaho or Boise State library," he said. "But now, with my phone, I can look up anything, even in an area such as Slate Creek."
Bass said this fact made him realize memorization wasn't as important in this day and age.
"There are still things you have to know, but I believe students are going to learn the most by doing, by using their skills," he said. "I would say the teaching is the same in many ways but the tools have changed."
Within the past couple of years Bass was able to complete his masters in educational technology at BSU. Being forward-thinking in his personal education has allowed him to remain up-to-date in the classroom.
I want students to figure things out and that's what I try to guide them toward," he said. "Life isn't easy – learning shouldn't be either."
More like this story
Latest stories
Latest video:
Saturday Accidents on US Highway 95