Wednesday, November 27, 2013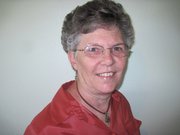 Cottonwood — Happy Thanksgiving to everyone. I hope you have a special day with your family and friends.
Last week Summit Academy had a program for veterans. It was very well done by the first through fourth graders. They each took a turn telling us about the history of each song and why it was written. It was very informative. Good job, kids. We can't do enough for our veterans. We want them to know they are appreciated.
What do you do when the snow begins to fall, the wind blows and your sidewalk is covered in snow? The Rome Pilgrimage Group is offering snow removal services throughout the winter season, and will accept donations for their trip. If you would like your sidewalk cleared and would like to support this group of young adults, call Megan at 962-5159 or Sarah at 962-7242. We really do appreciate community support! The group is also selling red fir mix firewood for $150 a cord split, or $200 delivered and stacked. Call Megan Rehder at 962-3380 to order.
The Greencreek Altar Society Christmas Party will be Dec. 8. Social hour starts at 5 p.m. with dinner at 6 p.m. All members past, present and future are invited.
Here are two opportunities to do something nice for Christmas. It is time once again to ask your assistance in purchasing Christmas gifts for the residents of the Shelter Home in Cottonwood. Call project chairman, JoAnn McHugh at 962-3846. Or you could help purchase gifts for children of NICI inmates. The parish office has a list of some of the children. Each Christian church in Cottonwood/Grangeville and the surrounding area takes a few of the family sheets and will ask their parishioners to provide gifts for the children. If you would like to help with this project, call the parish office at 962-3214.
The City of Cottonwood is currently looking to improve the Cottonwood Community Hall basement. They would like to increase the size of the main room by removing some storage rooms and dividing the city council chamber in half. They would also add a second bathroom and increase the size of the kitchen. It would make the space more user friendly, and be a room to rent when the hall upstairs is too large. See the options that they are considering and voice your opinion.
Did you know that Greencreek had a zipline? Yep, we do! And this gramma had to try it out! It was fun! Eric and Alea Wassmuth have it at their house. I had to wait my turn as the kids love it.
More like this story
Latest stories
Latest video:
Saturday Accidents on US Highway 95