Wednesday, November 20, 2013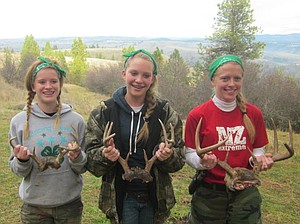 No column last week as I wanted to attend the Veterans Day program at Prairie High School. They did a very good job of honoring all the vets who were present. John Eynon gave an informational speech on what we can do for our country.
We had a great weekend at girls' hunting camp. My daughters, Gail, Kim and Amy, and daughter-in-law, Susan, as well as granddaughters, Lauren, Maria, Makayla, Julia and Madeline were there. We had a great time while Maria got her first buck and Lauren got one, too. Amy got the biggest buck of all. Go, girls!
Prairie Community Library is asking for estimates on a new desk and cupboards for the office area. Contact the library if you are interested in doing this project. Closing date for estimates is Jan. 21.
We are looking for a name for the doggie from Dog Bark Park. We are asking for kids age 12 and younger to suggest a name for our new mascot. Submit your suggestions at the library. The deadline for sending in names is Dec. 31. A Children's Story Hour is in the planning as there are moms and kids interested in doing something like this. Contact the library if you are interested.
If you want to see a very original artist's work, come by the library to see what Maurus Uhlorn does with horseshoes. He creates all sorts of figurines of farmers and ranchers that come to life with his unique style using horseshoes and various pieces of metal he has in his shop. All items are for sale and make great Christmas gifts.
I received word that my cousin, Terence Duman, passed away in Salt Lake City, Utah. He used to live in this area and went to school here. He was a good friend to all who knew him.
Winter must be here or right around the corner. Fr. Paul always sings a Christmas song after the first snowfall, just to get us in the mood for Christmas.
More like this story

Latest stories
Latest video:
Neighborhood Experts: Idaho County Propane