Wednesday, November 20, 2013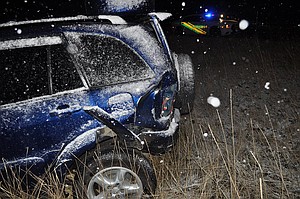 Cottonwood — Drivers received minor injuries in a two-vehicle rear-end collision last week at Cottonwood.
Thomas S. Baker 60, of Ontario, Ore., and Duane R. Peterson, 44, of Lewiston, were transported by St. Mary's Ambulance to the hospital in Cottonwood. Both men were wearing seat belts.
The incident was reported last Friday, Nov. 15, 5:40 p.m., on U.S. Highway 95 at the North Cottonwood intersection (Business Loop 95), according to an Idaho County Sheriff's Office (ICSO) report. Baker was driving a 2002 Toyota Rav northbound and was turning left into Cottonwood, and meanwhile a following tractor-trailer slowed for the Toyota and a second turning vehicle. A northbound 2001 Chevrolet Silverado pickup, driven by Peterson, passed the tractor-trailer and ran into the back of the Toyota as it turned.
Peterson claimed he could not see the turning vehicle because of the heavy blowing snow. Inattention was listed as a factor in the crash, and a citation is pending against Peterson for insufficient passing clearance.
ICSO Deputy Mike Brewster investigated the crash, assisted by Deputy Scott Paulsen and Cottonwood Police Chief Terry Cochran. Wrecker services were provided by Long's Towing and Dale's Rescue Towing.
More like this story
Latest stories
Latest video:
Idaho Drug Free Youth GHS chapter skit at GEMS Nov. 20, 2015