Wednesday, November 20, 2013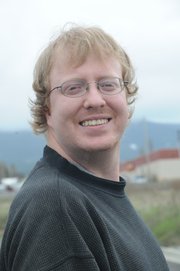 Before we get to this week's winners, I'd like to offer a hearty thank you to everyone who played and a special shoutout to two guys who came up with the right answers about 77 percent of the time: Brian Lorentz and Lee Courtright. I hit about 72 percent, and quite a few of those who entered picked 'em better than I did. There's no tiebreaker on the bragging rights title, so Lorentz and Courtright, who both turned in 102 correct answers throughout the course of the contest, are entitled.
As for this week, it once again came down to a tiebreaker — this time between Courtright, who lucked out for the first prize, and Mike Connolley. (Your gift certificates are ready to be picked up at the Free Press office, guys.)
Around the office, Nona picked 'em better than the rest of us this season — at least according to Lorie's math — but none of us averaged better than nine right per week (75 percent), which was my personal goal from the outset.
---
Last week's results: Salmon River eliminated Dietrich, Troy out-battled Prairie, Hagerman took down Raft River, Coeur d'Alene topped Capital and Skyview knocked out Jerome in the high school games.
In the college games, Auburn lucked out against Georgia, UTEP handled Florida International, Bemidji State befuddled Minot State, and Platteville beat Oshkosh.
In the NFL games, Philadelphia held off Washington, Miami surprised San Diego and Denver broke Kansas City's unbeaten streak.
---
I'll be taking note of the high school state championship games across Idaho this weekend and attending the Salmon River-Council game on Friday night. Before the season, Savages coach Charlie Shepherd told me Council is usually good and has an especially strong stable this year.
That's a good word to go on, as I've not yet had the pleasure of watching Council in person.
Even so, I probably wouldn't have picked Council to take down Lighthouse Christian, based purely on what I have personally seen from Lighthouse Christian. That team Council knocked out is formidable, so I was surprised to learn Council found ways to stop the Lions in the red zone.
One of my favorite things about high school sports is its ability to surprise even those among us who pay close attention.
That said, I'm picking Salmon River.
Maybe I'm biased from having had the pleasure of watching these Savages from time to time, or maybe I'm too much of a homer, but I just can't envision any scenario under which Council overcomes the memory of a 50-0 loss earlier this season and slows down an offense led by a young man who is almost certainly the best all-around athlete in the 1AD2 classification, Leighton Vander Esch.
---
Thanks again to everyone who sent in hunter success photos this fall. We'll keep printing every one we receive.
Latest stories
Latest video:
Neighborhood Experts: Idaho County Propane