Wednesday, November 13, 2013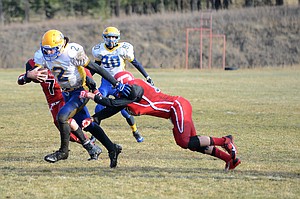 Photo Gallery
1AD2 football quarterfinal - Salmon River at Kootenai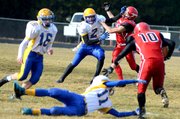 1AD2 football quarterfinal - Salmon River at Kootenai
Harrison — Salmon River made short work of Kootenai, defeating the Warriors 56-6 during the opening round of the 1AD2 playoffs last Saturday, Nov. 9. The Savages struck first on a throw from Leighton Vander Esch, a 25-yarder, but misfired on the two-point try.
Kootenai answered with a 75-yard touchdown pass midway through the first quarter, but instead of igniting an offense-heavy competition, the big play lit a fire under Salmon River, which did not allow another point.
Vander Esch then hit McCoy Hale with a 23-yard touchdown pass. The Savages used some misdirection to spring Terrun Zolman wide open for the conversion, which made it 14-6.
Vander Esch scored the next four touchdowns on the ground, with 86 rushing yards just on the scoring plays.
Vander Esch threw for 272 yards on 24 attempts by completing two-thirds of his throws, as Salmon River came out throwing and only activated its rushing attack after putting Kootenai back on its heels.
The Savages threw only once during their first two series, as the Warrior defense stymied Salmon River's rushing attack on Vander Esch's first attempt.
Salmon River mixed in two runs during its third series, and boosted its rush ratio from that point on. The Savages ran on eight of their last nine plays during the final two series, both of which ended in Jimmy Shepherd touchdown runs. Shepherd, who scored the first points in the contest, broke a long run for a score early in the third quarter, and Salmon River ended the game on a short Shepherd run.
Coming — Salmon River will visit Dietrich High School on Saturday, Nov. 16, at 1 p.m. MT, in its 1AD2 semifinal. Dietrich beat Castleford 50-0 last week.
More like this story
Latest stories
Latest video:
Fly fishing clinic
Rae Brothers sporting goods hosts steel head flyfishing clinic with Mark Imus Jan. 30, 2016. Enlarge