Wednesday, November 13, 2013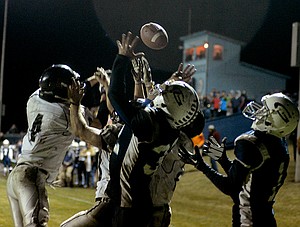 Photo Gallery
2A football quarterfinals - Grangeville vs Declo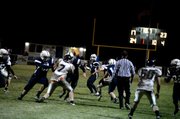 Grangeville — A stinging loss to Declo one year ago introduced a vengeance factor to one of 2A Idaho's budding playoff rivalries, but desire to wipe the grins from the Hornets' faces was not enough to propel Grangeville past the reigning champions last Friday night, Nov. 8, at GHS.
Declo again overcame a halftime deficit by shutting the Bulldogs out during the second half of what wound up a 23-17 Hornets victory.
The Bulldogs scored first, as senior lineman Phillip Walters sniffed out a Declo fumble and pounced to give GHS possession at the Declo 47. Senior running back Cody Robinson was then facemasked at the end of a hard run, advancing Grangeville to the Declo 26.
Then junior quarterback Michael Wilson delivered a pass to sophomore wideout Austin Parks for a 21-yard gain, setting up first and goal at the five. After a designed run, Wilson went out with an injury. Much as with an early series that began with prime field position one year ago, GHS had to settle for a field goal.
The similarities to last year's game didn't end there; the Bulldogs went on to score all 17 of their points in the first half.
Grangeville pushed its lead to 10-0 with a nine-play drive from midfield, which was set up by senior all-arounder Josh Dame's punt return to the Declo 42. The drive produced a couple of first downs by way of a pass and a pass interference penalty. Grangeville then turned a broken play into a big play, when Wilson started on a bootleg to his right and saw no open receivers. Then he sprinted away from pursuit, reversing his field back to the left, where he picked up one big block before running into a swarm of Hornets.
Then it appeared Wilson either pitched the ball wildly or fumbled it directly to Robinson, who charged down the sideline all the way to the Declo five, where he was pushed out of bounds. The chaos set up a short touchdown run for Wilson.
Declo answered with a 77-yard drive that ripped the GHS secondary for a couple of passing plays, forcing a Grangeville timeout with about eight minutes left in the second quarter. The Hornets wound up punching it in on a one-yard run.
Grangeville responded with an 82-yard drive that bled the clock down to about a minute, and might have left Declo with no time at all if not for a perfect play call, which sprung senior end Alex Koberstein wide open for a Wilson pass, which he took 44 yards to the end zone.
The touchdown made it 17-8, Bulldogs.
The Hornets then completed three consecutive passes, including one 50-50 ball, which a GHS defender couldn't quite intercept or deflect. Declo's fourth consecutive completion went for a 23-yard touchdown with 15 seconds left.
Grangeville barely missed on a throw deep down the home sideline during the third quarter, but retained possession by way of a fake punt. GHS caught another break when Declo was flagged for a penalty that reversed an interception in the Hornets end zone. With a boost from the fortuitous "roughing the passer" flag, the Bulldogs advanced all the way to the seven before missing a field goal early in the fourth quarter.
Declo took over at the 20 and immediately hit a deep pass out to midfield. The Bulldogs forced the Hornets to convert two third downs during the series: one near midfield, the other at the goal line. Declo ran for both, then tacked on a two-point conversion with a pass.
After trading possessions, Grangeville got one last crack on offense, and moved from its own 21 to the Declo 31 with a two-minute drill. With six seconds left, the Bulldogs set themselves up for one last lob into the end zone, which fell incomplete in the GHS end zone.
"It's a devastating loss because of what this team accomplished this year," coach Jeff Lindsley said. "We looked back at our early losses and they were by a combined 10 points. This team was kind of an unknown coming into the season, even to knowing we'd have to battle to win the CIL [Central Idaho League] title. These kids' accomplishments this year shouldn't be soured by this game. As a coaching staff, we expect to get to the title game every year. It just drives us crazy when we can't get that done. After we watched the film on Friday night, it's safe to say our preparation for next season is well under way. At the same time we try teach more than just football wins and losses, and we do."
Grangeville finished 7-3.
More like this story
Latest stories
Latest video:
Fly fishing clinic
Rae Brothers sporting goods hosts steel head flyfishing clinic with Mark Imus Jan. 30, 2016. Enlarge