Wednesday, November 13, 2013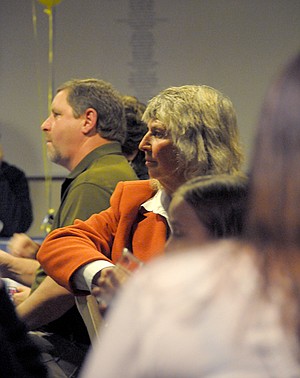 Grangeville — Less than a year after its formal inception, the Grangeville Community Foundation (GCF) granted $7,500 to local entities Wednesday, Nov. 6. An event was held at Super 8 to honor recipients as well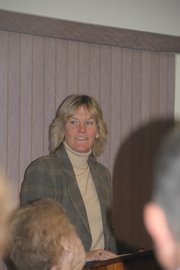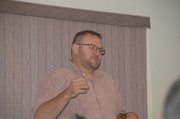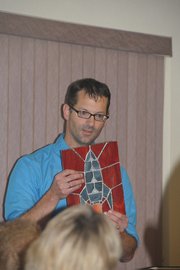 as GCF donors. More than 100 people attended.
Recipients included Animal Ark ($1,000 for spaying and neutering Grangeville pets); Grangeville Arts, Inc. ($1,000, Pioneer Park Summer Concert Series); Grangeville Centennial Library ($750, Family Read Week activities); Grangeville Elementary Middle School Art Program ($250, advanced stained glass program with Patrick Phillips); Grangeville Elementary Middle School Tech Program ($500, specialized computer software/desk); Grangeville Horizons Recreation, Inc. ($250, Pioneer Park tree lights); Grangeville Secondary Music Department ($1,000 repair/ maintain woodwind and brass instruments); Hope Center ($250, DVD series presentation); Idaho County Recycling ($500, educational information/printing); The Kids Klub, Inc.($500, 2013-14 art class); Mountain View School District 244 Volleyball ($250, AcuSpike volleyball trainer); Sts. Peter and Paul School ($250, classroom Smart Boards); and YWCA-Grangeville ($1,000, various vouchers for women in need).
"We started this organization with the hope to leave a legacy in Grangeville and we're well on our way," said GCF board member John Bennett.
The GCF endowment has so far been built to $95,000, just $5,000 short of its year goal. The money is invested by the Idaho Community Foundation (ICF) and, Bennett explained, since that pot is large, GCF gets the same return as does ICF, which leads to a greater amount of money to work with.
"GCF is a leader – it was clear from the start you had very ambitious goals," said Jill Dougherty, fund development and donor relations officer out of Coeur d'Alene. "You are a model affiliate that has paved the way for other Idaho groups."
Kristi Soltman Brooks spoke on behalf of her family, a supporter of GCF.
"I was fortunate to have grown up in this community and be able to come back here to live," said Brooks, daughter of Fran and the late Dr. Jack Soltman. "I am also blessed to have been raised to give back to the community I live in."
"My father was a huge advocate of giving back to this community and he would be proud of Grangeville Community Foundation," Brooks added. "GCF has been established by the people of Grangeville to help the people of Grangeville and make it a more vibrant community."
Thirteen applications were turned in to GCF for its first year and all 13 were granted funds, though not for the total amounts requested.
"These 13 entities actually requested about $35,000 all together," said board member and GCF co-founder Mary Schmidt. "Imagine the day when we can grant the full requests and more."
GCF accepts all amounts of donations anytime during the year for its endowment fund. The investment interest/income from the funds raised goes directly back into the community of Grangeville. To donate, send to PO Box 487, Grangeville, ID 83530 or e-mail grangevillecommunityfoundation@gmail.com with questions. Log onto www.idcomfdn.org/gcf for details or talk to any member of the board of directors: John Bennett (983-3096); Mary Jahn (983-5962); Mary Schmidt (983-0373); Andrea Solberg (983-2475); or Jane Spencer (983-2254).
More like this story
Latest stories
Latest video:
Fly fishing clinic
Rae Brothers sporting goods hosts steel head flyfishing clinic with Mark Imus Jan. 30, 2016. Enlarge