Wednesday, November 6, 2013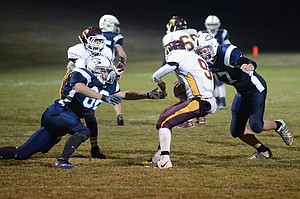 Grangeville — Nampa Christian couldn't keep the Grangeville defense away from its quarterback, nor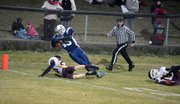 Photo Gallery
Grangeville takes Nampa Christian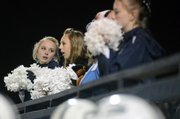 could the Trojans prevent GHS quarterback Michael Wilson from delivering deep throws to his No. 1 target last Friday night, Nov. 1.
Grangeville scored 19 points during the final four minutes of the first half of a 38-18 victory. The Bulldogs were caught flatfooted on several big plays late in the game.
"Overall, it got us on to the next game, so we met our primary objective," coach Jeff Lindsley said. "But it was frustrating from an execution standpoint. On film, you could see what kids were trying to do, playing in a different defensive front on three days practice."
After catching a couple of long-bomb touchdowns two weeks ago, the Trojans likely saw a lot of Grangeville senior wideout Josh Dame on film. On a passing play late in the first quarter, the Trojans –two of them tasked with bracketing Dame– watched him plant and turn and leap to catch an underthrown deep ball. The rest of the Nampa Christian squad then saw him shake off one of the defenders and fight the other one to within six yards of the end zone. Then, on a short run the next play from scrimmage, they saw Dame score the first points of what became a blowout win.
Later in the first half, Nampa Christian's would-be tacklers crunched GHS running back Wyatt Dewey three times on a single run, only for Dewey to gain 23 yards. Two plays later, quarterback Michael Wilson bulled his way nearly to the goal line. The Trojans stopped Grangeville twice – stopping Wilson once and Dewey once – before Wilson broke through from two yards out.
Dame's second point-after made it 14-0, and most of the tension went out of the contest when Nampa Christian imploded during the ensuing series.
Taking over at their 20 after a touchback on the kickoff, the Trojans lost ground when senior lineman Phillip Walters caught sophomore quarterback Steve Tiersma in the backfield. Nampa Christian wound up punting from a couple yards deep in the end zone, where defensive back Austin Parks blocked it and lineman Spencer Connolley recovered for a touchdown and a 20-0 GHS lead.
Before the half was over, Dame turned in another powerful run after a catch, faking out two defenders, spinning away from a third, and then diving over one more to complete a 38-yard score.
Early in the second half, a sack by defensive end Alex Koberstein gave Grangeville good field position, which set up another long run by Dewey, to which Nampa Christian added an unsportsmanlike conduct penalty. Wilson scored two more rushing touchdowns during the third quarter.
Nampa Christian scored three touchdowns, all on passes (68, 20, 40).
Coming – Grangeville (7-2) will host Declo at 6 p.m. Friday night, Nov. 8. They'll see a lot of the same rugby-style rushing offense that Declo deployed last year, but hope to be better prepared for it this year, Lindsley said.
"They line up in a scrum and run it until you stop it," he said. "Defensively, we gave up more rushing yards than I'd have liked last Friday. It's going to be critical for us to be better against Declo."
Linebacker Cody Robinson may or may not be available to play; he has been sidelined during recent weeks on account of a concussion.
Defensive end Eli Eackles was lost to injury for the remainder of the season during the Gooding game. Standing in for him is senior Ryan Frost, who "has not had a lot of game reps," Lindsley said. "But he's a brave enough kid I expect he'lltake on that challenge."
The Bulldogs are also shorthanded at running back, so "Wyatt Dewey has a ton of work to do this week," Lindsley said.
More like this story
Latest stories
Latest video:
Idaho Drug Free Youth GHS chapter skit at GEMS Nov. 20, 2015