Monday, December 30, 2013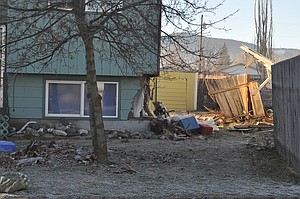 GRANGEVILLE – Anger isn't a crime, but reckless driving is. And a reportedly frustrated Grangeville woman was arrested last week after crashing a pickup into two houses on Cunningham Street.
Charges were pending as of early deadline last Friday against Ashlie Matamalaki, 29.
Information was limited due to the ongoing investigation by the Grangeville Police Department. The incident was reported last Thursday, Dec. 26, 6:22 p.m., 400 block of Cunningham Street. According to GPD Officer Wes Walters, Matamalaki has been in a fight with her boyfriend and allegedly "drove off recklessly" in a 1989 GMC pickup. Less than a block she drove the westbound pickup off the road, struck a tree and into the corner of the Yvonne Adkison residence, and through a wood fence into the adjacent vacant property where the pickup took out a portion of a carport.
Matamalaki was not injured in the crash, narrowly escaping being hit by a 4 by 4 post that punched through the windshield. She was taken into custody after evaluation by Syringa Ambulance EMTs. Substantial damage was reported to both residential properties; however, no dollar amounts were available. GPD Officer Paul Orgish is investigating the crash. Assistance was provided by Idaho County Sheriff's Deputy Gideon Roberts.
More like this story

Latest stories
Latest video:
Neighborhood Experts: Idaho County Propane