Monday, December 23, 2013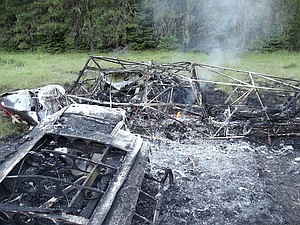 The decision to attempt a takeoff with a gusty tailwind with a thunderstorm in close proximity to the airfield was determined as probable cause of a 2012 airplane crash that claimed the life of the pilot.
Jahan Ashtiani, 48, of Coeur d'Alene, died in the June 28 crash last year 32 miles east of Lowell at the USFS Moose Creek grass airstrip. A passenger, Anthony DiPaola, survived with minor injuries.
The National Transportation and Safety Board (NTSB) released its probable cause report Dec. 5 on the crash, stating Ashtiani's decision resulted in the loss of control of the single-engine Aviat A-1C aircraft during the initial climb and an aerodynamic stall/spin.
DiPaola stated Ashtiani wanted to beat an approaching storm, and immediately after takeoff and during the initial climb, the airplane rolled violently to the right, rolled back to the left, and then nose dropped before impact with the terrain.
Prior to the accident, witnesses reported seeing the two men rushing to pack up the airplane while the airfield weather was deteriorating. The airplane was observed as unstable during the takeoff, and as the thunderstorm was within one mile of the airfield the windsock was fully erect and moving around erratically, "knocking the aircraft all over."
A post-accident examination of the airframe and engine revealed no mechanical malfunctions or failures that would have precluded normal operation, stated the report.
Initial scene investigation was handled by the Idaho County Sheriff's Office, with assistance from a Back Country Medics helicopter from Orofino.
Latest stories
Latest video:
Neighborhood Experts: Idaho County Propane