Monday, December 23, 2013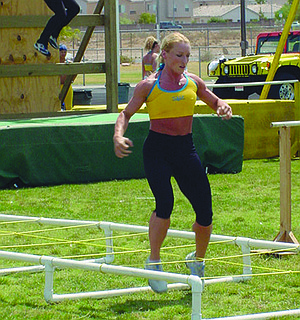 When Jennifer Mills got serious about running as a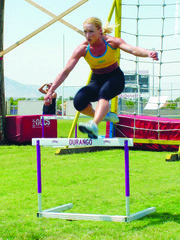 teenager during the early 1990s, she launched herself into the routine with the relentlessness of a distance racer.
Though blessed with a sprinter's frame, she pushed herself through the endless hills surrounding Slate Creek. With first- and second-place state finishes to her credit as she entered her senior year at Grangeville High, Mills set herself up as a top contender for the 1995 A3 high school girls distance triple crown. In a profile that came out just prior to the state meet, the Lewiston Tribune noted Mills had been running up to 65 training miles per week in addition to competing in the 800, 1600, 3200 and mile relay.
Mills' coach at the time, Gail Foltz, told the Tribune she had "never had a girl so competitive in the events she's in.''
Mills came within a hair of completing the sweep, but for the second time in three years, her 1600 came down to a photo finish. The gold was hers in 1993, but not in 1995.
Out of high school, she enlisted with the Marine Corps; during her service, she ran track and cross-country "CISM" events for four years. CISM — Conseil International du Sport Militaire — is the governing body for athletic competition among armed service personnel the world over.
At a 1998 CISM event in Curragh, Ireland — where Braveheart's battle scenes were filmed — Mills ran 3.4 miles in 22 minutes, two seconds. On the track, she was interservice champion in the 800 and 1500.
That December, running with a team sponsored by FILA, Mills competed in the USATF cross-country championship held at the Walt Disney World of Sports Complex.
Since then, Mills has competed in women's tri-fitness (WTF) challenges, including "California's Fittest Woman" in 2000 and the WTF World Challenge in Las Vegas in 2001.
"I got a kick on those, I really like those, they're a lot of fun to train for. I was training at the Gold's Gym, Venice Beach, and that became my lifestyle," Mills said. "I became a personal trainer....I was an instructor in the military, I was busy running, and I kind of wanted to take a hiatus from all of that. When I was on hiatus, I found how fun it is to be a trainer."
"It was a lot more rewarding," she added. "We were actually out running boot camps on the beach, me and another recon Marine who was out of the Marine Corps, and we would train actors, firefighters, police officers — it was really a challenging boot camp."
At the same time, she was competing. In 2002, she competed in an NPC bodybuilding competition and another WTF.
"I think that was probably my best competition," she said. "I had done quite a few regional shows, and I was training pretty hard. My whole day was regimented. Early in the morning, it was train, go back to sleep, eat, go to the gym, eat again, go back to sleep, train some people and go back to the gym. You're eating really healthy to look that good. I was eating like eight times a day. Everything was really clean. By that I mean you don't add anything to the food. Chicken. Steak. All your veggies are steamed. Egg whites in the morning, oatmeal. Protein shakes in between. You're eating to get lean, and eating eight times a day helps kickstart your metabolism. And I tell you, you get hungry every hour. It's quite a lifestyle, and being a Marine, I was really into it."
In 2003, she did the Natural Universe competition in Los Angeles, which she says is set apart by its commitment to rigorous drug testing, as well as the Miss Lahaina competition in Hawaii.
"Now is my time to give back," she said. She is promoting and judging shows and running fitness camps on Oahu.
She credits coaches throughout her life for contributing to her success, and noted three from her youth: "My dad really shaped me to be outdoors and adventurous, and to put your heart into everything. He was a Marine and got the Marine into me before I became a Marine," she said. "Mr. Zimmerman [a teacher and coach at Salmon River High] was my first coach and he taught me a lot about the 800."
And Foltz? "She's passed away, but she was awesome. She was hard-ass. She kicked my butt...She saw the potential in me."
She has called Hawaii home for 11 years; she runs a boot camp there for "people who want to make a serious change in their life."
Latest stories
Latest video:
Neighborhood Experts: Idaho County Propane