Wednesday, December 11, 2013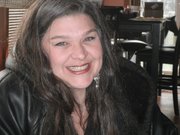 WHITE BIRD — Winter has most definitely arrived! What a white, winter wonderland we've got going on! It's time to break out those sleds and the hot chocolate, head to the hills and stay off of the highways. Well, as long as you have some super thermal clothing, because man, it's cold out there!
This Saturday, Dec. 14, we are having a potluck at the IOOF hall, in honor of Tom Shwartz's (Clyde) 90th birthday. There's nothing better than a White Bird potluck. Bring a dish of some sort and join us in the dining room at noon to share a meal and good conversation.
Later that evening we will have a continuation of Tom's birthday in conjunction with a celebration for Cactus and Bonnie's marriage. There will be all kinds of good spirits, dancing and fun. Saturday is going to be a great day for our little community, so join in.
The Salmon River American Legion is selling oranges. If you would like a case, call Dean Roakey at 628-3335 or Gary Solberg at 628-3633. You need to call before Dec. 14 and they will deliver them to downtown White Bird on Dec. 15 at 10 a.m.
The Christmas program is quickly approaching. The kids are practicing their lines and the hall is already lit up like a Chevy Chase Christmas. All kids need to be at the hall after school to practice on Tuesdays and Thursdays. Parents, pick them up at 5:45 p.m. If any of you could provide snacks for the kids for one of the evenings, call Jenny at 839-2721. Jenny also encourages any of you adults who would like to contribute a song, a poem, a sketch or something to the Christmas program to get ahold of her.
The Christmas program will be at the IOOF hall on Saturday, Dec. 21, at 5 p.m. The lighted Christmas parade will follow the program. Every year, the parade gets better and better. If you would like to have an entry in the parade, call Carrie Marek at 507-2120. If you're not in the parade, then meet us at the park for hot chocolate and a fire to watch it.
Just a little heads up, Hootie is once again planning on having Christmas dinner. She always has a few specials to choose from. There will also be a live band on New Year's Eve at Hoot's.
Last week's cribbage tournament brought 18 card players to the tables. First place went to Shea, and Blaine got second. It's getting too cold to go outside and do anything else, so join in for crib next Saturday at the Silver Dollar.
Happy birthday this week to: Jerry Brown, Loen Brumley, Maureen Randall, Joan Moline, Gary Wright, Nancy Marek, Juanella Cash, Janet Henderson, Ed Hagen, Nora Deasy, Sandi Freund, Monica Lucarelli and Chris Black.
Latest stories
Latest video:
Neighborhood Experts: Idaho County Propane