Wednesday, December 11, 2013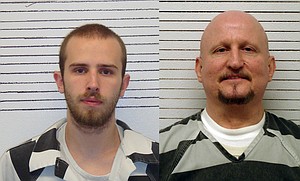 An appeal for a third trial has been denied to convicted double murderer Mark H. Lankford.
In a 25-page order filed last Friday, Dec. 6, Second District Court Senior Judge James F. Judd denied Lankford's motion, which sought to overturn his conviction on allegations including witness perjury, prosecutorial misconduct, recantation of trial testimony and ineffective assistance of counsel. Reviewing each of Lankford's allegations, Judd denied these on their failure to meet the criteria of law or that no proof of evidence was available.
Lankford, 57, is currently serving two fixed life sentences for the 1983 murders of Arizona couple Marine Capt. Robert and Cheryl Bravence. Both Mark and his brother, Bryan, were convicted in a 1984 trial on the murders.
Following subsequent appeals, Mark's case was retried in 2008 where he was again convicted on the murders. On appeal, Bryan's sentence was reduced to life in prison, and he is tentative to be released on parole in 2018, pending review by the Idaho Commission on Pardons and Parole.
The Bravence family is campaigning for public support to place pressure on the commission to reverse its decision and deny Bryan, 55, parole.
More like this story

Latest stories
Latest video:
Neighborhood Experts: Idaho County Propane