Wednesday, December 11, 2013
GRANGEVILLE — Big changes are under way for Syringa Hospital in 2014.
Thanks largely to the $1.2 million left to Syringa by the Orrin and Eleanora Webb estate last year, Syringa will undergo substantial renovations and remodeling in 2014.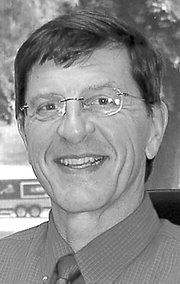 "It's the 75th anniversary of the hospital so it really is a fitting time to be able to do this," said CEO Joe Cladouhos.
The hospital recently purchased the Main Street lot that is the former site of Ernie's Steakhouse. The land was appraised for $205,000 and the hospital was able to purchase it for $135,000 as the Robinson Family made an in-kind donation of the $70,000 gap.
"It was good for them as a donation and tax write-off and definitely good for us to be able to get it for the price we did," Cladouhos said.
The area is currently being used as a staff parking lot and evaluated as a LifeFlight heli-pad.
"Of course we have to ask the city and go through all the channels to see if that would work – we wouldn't just start landing helicopters there without telling anyone," Cladouhos grinned. "But we feel this could save at least 15 minutes on the LifeFlights which is a huge amount of time when you're dealing with heart attacks, strokes, and other emergency situations."
In January the hospital will start on several projects, as drawn out by Cottonwood architect Rhonda Wemhoff. This includes some remodeling in the lease-to-own "LeBlanc" building (owned by former Grangeville doctor LeAnne LeBlanc) at 212 North B Street. This building will house much of the hospital's administrative and billing staff, including Cladouhos' office. The former physical therapy building behind the hospital will be renovated to a community outreach building and will include the Syringa Foundation, hospice, community relations, events planning and the Cancer Resource Center. The area where the administration is now housed (between the clinic and hospital proper in the former Idaho County Nursing Home area) will become clinic exam rooms.
A large project that will change the face of the hospital will be the addition of a covered area and drive-through drop-off parking from Main Street. The inside area will also include an expanded patient waiting room.
"Our goal with everything we are doing is to increase the quality and value of the patient experience at the hospital and clinic for the community," Cladouhos said.
The Webb money indicated a portion be used for a doctor's lounge and a patient area. A physician common room, sleeping rooms and shower will be placed upstairs where the foundation, hospice and community relations are currently located.
"This area will allow doctors to stay overnight if they need to and provide a nice respite area," Cladouhos said.
A recent $225,000 grant from Murdoch Charitable Trust will help with about half the cost of a new CT scanner, as well. Changes will also take place in the emergency room and lab areas.
"There's definitely a lot going on and we are anxious to continue improving what we have and build on it," Cladouhos said.
A community picnic event is planned for June 30 and Cladouhos hopes a major part of the entrance renovation will be complete at that time to show the community. The entire project is expected to take a year.
Latest stories
Latest video:
Neighborhood Experts: Idaho County Propane