Wednesday, December 4, 2013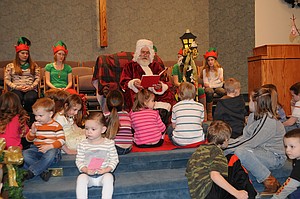 Cottonwood
•The Center For Discovery Kids Shopping Day is set for Saturday, Dec. 7, 8 a.m. to 1 p.m., at the Prairie Elementary School Gym. Presents for everyone, all priced $5 or less, will be available. Gift wrapping is also available. Everyone is invited to attend. The Center for Discovery is also open until midnight Friday, Dec. 6, for parents who would like to get a jump start on their Christmas Shopping or holiday errands. Cost is $2 per hour and the center will provide dinner and snacks, movies and crafts. The kids will also be able to shop for their families this night. For questions call Erin Shears at 962-7080 or 816-0202.
Elk City
•The Elk City Community is sponsoring the Tree of Giving. This is an opportunity for anyone in the community to sponsor a gift for an Elk City child. A donation of $35 will allow you to choose a child to sponsor. A Christmas tree is being hosted at REACH Club, located at Elk City School where anyone may stop by and leave cash or a check to sponsor a child. All amounts are accepted. Donation can also be mailed to REACH Club, PO Box 294, Elk City, ID 83525.
Grangeville
•Grangeville Centennial Library has the following events set for December: Wednesday, Dec. 4, GCL will host Love Your Library Day. Come help decorate the library from 3-6 p.m. (drop in anytime). Dec. 13, GCL, along with Blue Fox Theater, will co-sponsor The Hobbit Movie at Blue Fox at 6 p.m. On Dec. 14, the GCL Drama Club will host a performance at Blue Fox Theater. Details TBA. On Dec. 16, a Jane Austen Birthday Tea is set for the library. Details TBA. Call 983-0951.
•Grangeville Elementary and Middle School will host the Scholastic Book Fair Dec. 7-13, 8 a.m. to 4 p.m., at the GEMS library. The fair will be open during a special community event, the yearly craft fair at GEMS on Dec. 7.
•Syringa Hospital Foundation's annual Festival of Trees Gala will be held Saturday, Dec. 7, starting at 5 p.m. The $25 ticket price includes free champagne or beer for the first hour and an all-you-can-eat buffet of heavy appetizers and desserts prepared by local chefs. There will be a live and silent auction as well as a raffle. Family day is set for Thursday, Dec. 5, 4 to 7 p.m. There will be crafts and concessions available for a nominal fee and free cookies and drinks, as well as and local singing groups performing. Both events will be at the Grangeville Elk's Lodge.
•The annual craft fair is set for Grangeville Elementary Middle School Saturday, Dec. 7, 9 a.m. to 4 p.m. More than 70 vendors will offer a wide variety of items for sale from homemade crafts and jewelry to candles and baked good items. Concessions of homemade soups, sandwiches and other items will also be available. Call Nancy at 983-2899 with questions.
•American Legion Post 37 and Auxiliary Unit will have a Christmas party Sunday, Dec. 8, 1-3 p.m. Turkey, ham and trimmings will be provided with members bringing salads and desserts and new unwrapped toy donations for the MISTY Toy Barn for children receiving cancer treatment. The party will be at the Grangeville Senior Center. All community veterans and their families are welcome. Contact Morris Bentley at 983-5535.
•Eagles Aerie 539 Annual Toys for Tots drive will be held through mid-December. Call Julie Bentley at 983-2183 for details on how to make donations as well as distribution dates.
•Syringa Hospice's annual Tree of Lights ceremony is set for Sunday, Dec. 8, 2 p.m., at the Soltman Center. The candlelight service includes music, the reading of memorial names and inspirational poetry. Those who wish to donate for an ornament in memory of a loved one should send a check as well as who they are honoring, who to notify and their own name and address to Syringa Hospice Tree of Lights, 607 West Main Street, Grangeville, ID 83530.
•The Seventh Day Adventist Church in Grangeville, 280 U.S. Highway 95 North, will host its annual Christmas Brunch and Music Program Saturday, Dec. 14, 10 a.m. All are welcome.
Kamiah
•Valley View Church of the Nazarene will host its annual Business Women's Tea Friday, Dec. 6, 11 a.m. to 2 p.m., 102 N. Front Road at milepost 69.5 Highway 12.
•The Kamiah Light Parade, co-sponsored by the Kamiah Chamber of Commerce and the Kamiah Fire Department, will be held Friday, Dec. 6, 6 p.m., Main Street. There will be a children's flashlight parade followed by lighted floats and ending with Santa available to visit with kids at the Chamber Welcome Center.
Kooskia
•Kooskia's Christmas Tree Lighting Ceremony and Jingle Bell Parade is set for Friday, Dec. 6. The parade will line up in the parking lot of the Kooskia branch of the Kamiah Community Credit Union at 3:30 p.m. and the parade starts at 4 p.m. Free hot chocolate will be provided by the Kooskia Rebekahs following the parade. Call 926-4812.
•Sterling Bank Kooskia Branch will be hosting its second annual Tree of Sharing. Parents may sign up their minor children (younger than 18) for the sharing tree. They must live in the surrounding areas of Kooskia, Stites or Clearwater and may be asked to provide proof of residence. The gift limit is $25 per child. Parents must register their children for the sharing tree no later than Friday, Dec. 6, at Sterling Bank in Kooskia. All gifts purchased for the sharing tree must be turned in no later than Friday, Dec. 13, and all parents must pick up the gifts no later than Friday, Dec. 20. Last year the Kooskia sharing tree was able to help 78 children in the area.
Riggins
•Unique Antler Design Wildlife Gallery will be having its annual Holiday Open House Saturday, Dec. 7, 10 a.m.-6 p.m. There will be refreshments, drawings for discounted purchases and door prizes. Stop in to see wildlife carvings from antler and stone, wildlife photography, hand crafted jewelry, Idaho Made pine needle baskets, antler lighting and furniture, all made in the USA and mostly in Idaho. Call Shari at 628 3460 with questions.
•The public is invited to the Salmon Rapids Lodge Gifts of Music. The first is set for Saturday, Dec. 7, 5 p.m. This will include a book singing of John Sangster's Salmon River Fire: 30 years as an Idaho Firefighter. Sangster is a Grangeville native and has been fire fighting in Idaho and the Salmon River area for more than 30 years. He will be available for a signing of his recently published book and to answer any questions about his rural fire fighting experience. In addition, Hotwire Band will provide the musical entertainment. The second gift is set for Friday, Dec. 13, 6 p.m. with the Salmon River Youth Concert. Enjoy a short musical sampling from the local youth who have been working on their big program to be performed Dec. 18 at SRHS. Students ranging from beginners to advanced will be showcased, directed by ASK music enrichment teachers. The Heartland Community Choir, with choir members from the Salmon River Canyon and New Meadows areas, will lend their voices for a memorable evening, performing a Christmas musical arrangement collaborated and directed by Julie Good. Call 877-957-2743 or 628-2743 or log onto www.salmonrapids.com




•Sunday, Dec. 8, After School Kids will be going to the Lewiston Civic theatre for "The Best Christmas Pageant Ever. This is an incentive trip for kids who attend ASK at elementary or junior high/high school at least 50 percent of the time. Call 628-2770.
Stites
•The City of Stites will host a Christmas tree lighting ceremony Friday, Dec. 6, 5:30 p.m., next to city hall. The evening will include caroling and lighting of the city tree. Following the ceremony there will be refreshments at Stites Baptist Church co-sponsored by Stites Church of God.
More like this story

Latest stories
Latest video:
Neighborhood Experts: Idaho County Propane